Review of Millennium Actress
Introduction
Satoshi Kon first came to prominence in the West with Perfect Blue, an anime film with a difference. And then Satoshi Kon slipped away from public attention, the anime equivalent of the one hit wonder. He was still working in Japan though, with his next feature Millennium Actress completed in 2001, and more recently Tokyo Godfathers. This year he came back to prominence however with the release in the West of the acclaimed Paranoia Agent television series, as he once again revisits the themes of paranoia and anxiety in perception altering experiences.
Millennium Actress is being released by Manga in a Satoshi Kon Double Bill, next to Perfect Blue. It`s also available individually. In the US there was no English dub, but in a Region 2 exclusive, an English soundtrack has been recorded for the film.
With the demolition of Ginei studios, an era of filmmaking is coming to an end. Documentary filmmaker Genya Tachibana is marking the event with an exclusive interview with Ginei`s most popular actress, Chiyoko Fujiwara. Chiyoko has been a recluse for the past thirty years, and the opportunity to interview her is a major coup, especially as Tachibana is a devout fan of her movies. He also takes the opportunity to return a piece of property to her, a key that she had thought lost since her retirement. The key literally unlocks buried memories for Chiyoko, and as she begins to relate the story of her life to Tachibana, it becomes clear just how much the key influenced her career and the path her life took. As her memories and movies begin to intertwine, Tachibana finds he is actively participating in the events that shaped her life.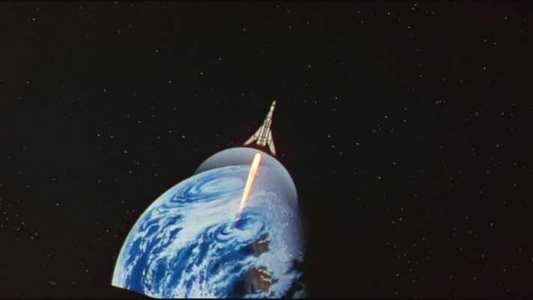 Video
Millennium Actress gets a beautiful 1.85:1 anamorphic transfer, boasting a clear and sharp image. The colours are strong and the rich details of the animated world come through well on the transfer. The character designs are simple but effective, and the emphasis is on keeping the animation as realistic as possible, with a degree of minimalism in expression and motion that reflects the real world. However that changes when we begin to see Chiyoko`s memories, her childhood is represented in a stylised manner, and the films she starred in are shown in styles appropriate to their respective genre. While the characters stay consistent, the animation style varies in look and feel, and it`s easy to point out influences from other films.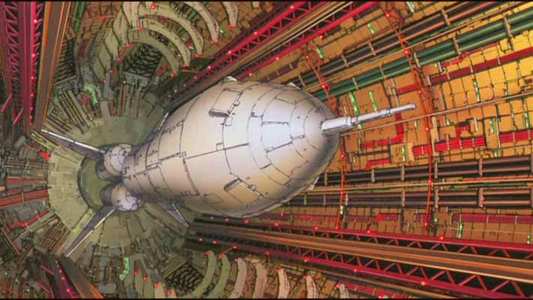 Audio
Manga Entertainment have a knack of loading up on soundtrack options for their releases, and Millennium Actress is no exception. You have a choice of DD 2.0, DD 5.1 and DTS soundtracks, in both English and Japanese. I chose to listen to the Japanese Dolby track, and found it to be effective and vibrant in the use of the soundstage. There is a good degree of ambience throughout, and the spot effects are reproduced well. Susumu Hirasawa, also composer on Paranoia Agent, scores the film with an emotional and uplifting theme, and you can hear the changes in music style as the genre of film changes.
I listened briefly to the English track and it seemed adequate, if not quite up to the standards of the original language track. I didn`t appreciate the longhaired cameraman being given a hippy voice, although the odd pronunciation of Tachibana as `Tackibana` was easier to dismiss. The subtitles don`t exactly follow the dub version, but they are close enough as to make no difference. The dub will add a few extraneous words to match the mouth movements. Either way, it is not a literal translation of the Japanese language track. The layer change could also have been better placed.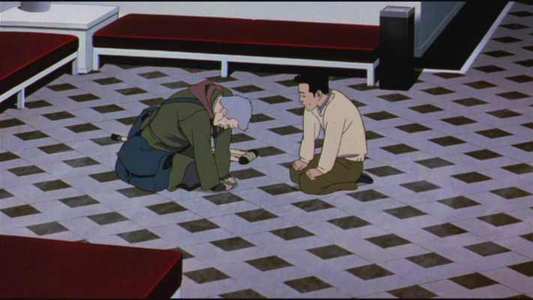 Features
Millennium Actress comes with some wonderfully animated menus. Inside the Amaray case, you will find a mini poster, with some production notes printed on the reverse.
On the disc, you will find the US Trailer, but the more substantial offering is a making of featurette with optional English subtitles. This lasts 41 minutes and in a conceit, is presented by the character of Tachibana. There are interviews with many who were involved with the film including director Satoshi Kon of course, as well as the producer, writer, composer and several of the voice artists. As the title says, it looks at the making of, as well as the genesis of the film, the desire to explore history, and keeping the film design authentic.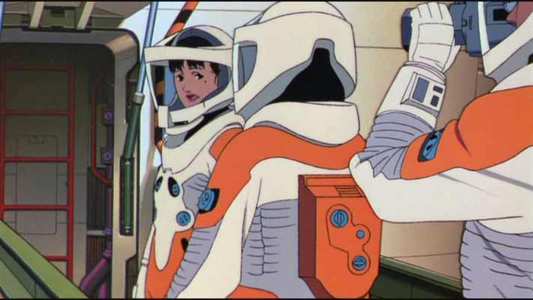 Conclusion
Satoshi Kon does it again, he creates a story where characters perceptions begin to overwhelm reality, where what is real and what isn`t begins to fade in importance in comparison with how people are affected by their beliefs and their memories. Unlike Perfect Blue or Paranoia Agent however, Millennium Actress doesn`t dwell on the theme of paranoia, but is instead a love story that takes place over half a century of Chiyoko`s life, or a thousand years of Japanese history. It`s the best kind of love story too, as we see how one event can shape someone`s entire life.
The key that Tachibana returns to Chiyoko is the symbolic key that unlocks her memories, memories that she has suppressed for thirty years, and are now so overwhelming that Tachibana and his cameraman find themselves drawn into the past with Chiyoko. Chiyoko`s story begins when she is a child, and is approached to work in films. Her mother disapproves of her daughter becoming something so crass as an actress, but a chance encounter in a snowy street introduces Chiyoko to her first love, a dissident artist on the run from the authorities. She shelters him, and in return he gives her the key that she comes to cherish. It isn`t long before he has to escape once more, and head to Manchuria to continue his fight against oppression. It`s when Chiyoko hears that the next Ginei film will be made in Manchuria that she makes the decision to become an actress, so she can keep her promise to return the man`s key. From that point Chiyoko`s recollections blur, mixing elements of her life and elements from the films she made, all of them concerning her desire to find the man who touched her heart when she was a teenager. In her memories two figures are always prominent, the mysterious and always unreachable man she pursues, and a scar-faced authority figure that always stands in her way. They are soon joined by the figure of Tachibana, whose own adoration of Chiyoko casts him in the role of protector in her memories, much to the consternation of his cameraman.
Just like Perfect Blue, there is more than one layer to this film. Millennium Actress is a celebration of the Japanese film industry, with the history of Ginei studios reflecting the past of many of Japan`s filmmakers from the pre-war years to the early seventies, as Chiyoko talks about her career in films. The roles she takes, and the films she stars in cover a period of a thousand years of Japan`s history, from the Warring States period, through the eighteenth, nineteenth and twentieth centuries and beyond into the future. It makes for a variety of styles and a wonderful tapestry of design all in the space of one film.
Once again, I`m struck with just how real this film is. Although the animation is of outstanding quality, what strikes me is the emotional depth of the story, just how true to life each of these characters feel, how genuine their responses are to the situations they face, and how they interact. The story`s honesty of heart and realism of character elevate this above merely an animated film. Millennium Actress is an astounding film full stop. It`s by turns funny, moving, heart-warming, tragic and uplifting. I was lost in the life of Chiyoko Fujiwara, and by the end credits, I`m not ashamed to say I had a tear in my eye. I`d defy anyone else not to feel the same way.