Millennium Actress - 4K UHD Blu-ray + Blu-ray Collector's Edition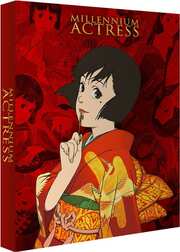 From genius director Satoshi Kon, take a journey through cinema history via his unique, world-bending perspective.
Certificate: PG
Running Time: 86 mins
Retail Price: £49.99
Release Date: 2021
Content Type: Movie
Synopsis:
With the renowned Ginei Studios shutting down and their buildings about to be demolished, film-maker Genya Tachibana sets out to commemorate this historical moment by interviewing the studio's former superstar - the now-reclusive Chiyoko Fujiwara.

Thirty years on from her disappearance from the limelight, one question lingers - why did she end her career and vanish at the peak of her acting powers? The truth lies within a key found by Genya many years prior... a key that is far more than just a memento, and instead serves as an emblem of her entire raison d'être.

As Chiyoko recounts her story, so Genya and his cameraman are pulled into a wide-ranging journey through the lens of her films. Interviews and recollections, acting and reality, all blur into the single rich tapestry of a remarkable life.
Special Features:
-Interview with Abby Trott
-Interview with Laura Post
-Interview with Producer Masao Maruyama
-Interview with Producer Taro Maki

Packaging and Physical Contents: Comes packed in a rigid case with a digipack to hold the two discs.

Also included is a poster (34x41cm) and a 44-page booklet containing in depth articles by Jonathan Clements and Andrew Osmond.

Video Tracks:
1.85:1 widescreen 1080p

Audio Tracks:
DTS-HD MA 5.1 Surround English
DTS-HD MA 5.1 Surround Japanese

Subtitle Tracks:
English

Directed By:
Satoshi Kon

Written By:
Satoshi Kon
Sadayuki Murai

Starring:
Fumiko Orikasa
Mami Koyama
Miyoko Shoji
Kōichi Yamadera
Masamichi Sato
Masane Tsukayama
Masaya Onosaka
Shoko Tsuda
Shōzō Iizuka
Abby Trott
Cindy Robinson
Erin Yvette
Ben Diskin
Christopher Swindle
Greg Chun
JP Karliak
Laura Post

Music From:
Susumu Hirasawa

Director of Photography:
Hisao Shirai

Editor:
Satoshi Terauchi

Producer:
Taro Maki

Distributor:
All the Anime