Perfect Blue Ultimate Edition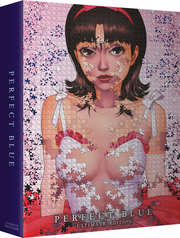 The colour of illusion is Perfect Blue.
Certificate: 18
Running Time: 82 mins
Retail Price: £99.99
Release Date: 2019
Content Type: Movie
Synopsis:
Experience a directorial masterclass from the legendary Satoshi Kon and view the inspirational, thought-provoking and chilling Perfect Blue as you've never seen it before.

Mima Kirigoe is ready to leave her career as a pop idol behind and forge ahead towards a bright new future as an actress. However, casting aside her former image proves to be far more difficult than she imagined, and the murky world of show business threatens to drag her into the depths of despair. As the strains of her new career path take their toll, and a menacing presence from her pop star past lurks in the background, is Mima able to keep a firm grasp on the things that define her? And as delusions, fiction and reality blend together in her mind, just what is it that defines her anyway?

This Ultimate Edition release includes the film in a new, remastered High Definition transfer with additional bonus material, offering fresh insight into the film from the director himself; the haunting soundtrack score on CD; and a full replica of Satoshi Kon's incredible storyboards for the entire film. Immerse yourself in the creative process of Perfect Blue, and marvel at the talent behind one of the most powerful animated feature films of all time.
Special Features:
Satoshi Kon's classic film Perfect Blue, with an all-new 2019 video remaster
New on-disc extras, including lectures discussing pivotal scenes from the film hosted by director Satoshi Kon himself
The film's original soundtrack on CD
384-page A4 book, containing the film's original storyboards in their entirety. Written in Japanese, available for the first time outside of Japan
Additional 48-page A4 book containing artwork, designs, and discussions with the director of the film
All of this is packaged inside a gorgeous slip case to take pride of place in your collection. Limited to 1,000 units.

Video Tracks:
1.85:1 widescreen 1080p

Audio Tracks:
DTS-HD MA 5.1 Surround Japanese
Dolby Digital 5.1 English
Dolby Digital 2.0 Japanese

Subtitle Tracks:
English

Directed By:
Satoshi Kon

Written By:
Yoshikazu Takeuchi
Sadayuki Murai

Starring:
Masaaki Ôkura
Shinpachi Tsuji
Rica Matsumoto
Junko Iwao

Soundtrack By:
Masahiro Ikumi

Director of Photography:
Hisao Shirai

Producer:
Takeshi Washitani
Yuichi Tsurumi
Masao Maruyama
Koshiro Kanda
Hiroaki Inoue

Distributor:
All The Anime