Anime Review Roundup
Live Action Noir On The Way?
Both the
Hollywood Reporte
r and
Anime News Network
reported last week that Starz Entertainment had optioned a live action remake of Noir. Noir is the 26 episode anime series from studio Beetrain, released in the West by ADV, that told the story of two young female assassins who encounter each other, both with mysterious pasts, an enigma that they can only uncover together. It's become something a fan favourite, and the girls with guns genre has proven lucrative for Beetrain, as they gave us Madlax, and El Cazador de la Bruja in succession. The live action Noir has none other than Sam Raimi signed on as producer, and Starz is the company that brought us the Spartacus television series. Starz also happens to own a little company called Manga Entertainment. The only sticking point that I can see is that we are hardly starved of young female assassins on television.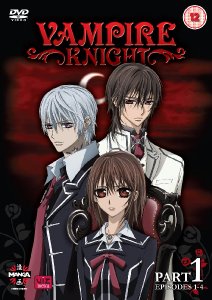 No less so than vampires actually, and it's almost with a sinking heart and a resigned roll of the eyes that I announce the arrival of yet another anime series about vampires in the UK. On the bright side,
Vampire Knight: Volume 1
is pretty good, giving a little Ouran High School Host Club vibe to the moody handsome bloodsuckers. The Cross Academy is a boarding school that is running a social experiment, trying to integrate vampires and humans, although without the humans knowing of the vampires' existence. All they know is that the school is divided into the Day Class and the Night Class, and the girls in the Day Class would die for the hunks in the Night Class. To stop this from literally happening, there are two guardians in the school, students Yuki Cross and Zero Kiryu, both with dark pasts with vampires in their backgrounds, and both aware of what can go wrong. But while they try to keep order, Zero has a secret to hide, while Yuki has something of a soft spot for the head vampire in the Night Class, Kaname Kuran. See if this is just another vampire show by clicking on the review.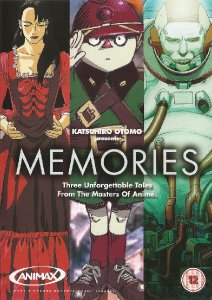 I then reached into the back catalogue for some
Memories
. Three acclaimed directors turned their attentions to three short stories from Katsuhiro Otomo, director of Akira, and together, the three short films comprise this anthology that received a theatrical release in 1995. It took till 2008 for it to get a DVD release in the West, and a little longer than that for me to get my mitts on it. Three very different stories, spooky, silly and satirical are in this collection, Cannon Fodder providing the satire, Stink Bomb providing the silly, and the spooky coming from Magnetic Rose. Magnetic Rose also has a screenplay from the late Satoshi Kon, and is the film that really established him as a creative force to be reckoned with. Click to find out more.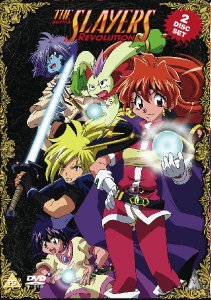 Finally, it was the return of the Slayers in
Slayers Revolution
. It's been a long time coming… Well it has for fans of the franchise in Japan and the US. We in the UK only had to wait a year between the release of Slayers Try and this the follow up series, but now that it's in bright, shiny widescreen, we can see what ten years of advances in animation techniques and storytelling have meant for the gluttonous sorceress Lina Inverse and her friends Gourry Gabriev, Amelia and Zelgadis, as they embark on a new adventure when Lina is framed for a Dragon Slave that she didn't cast. A little cuddly toy with an obnoxious attitude is trading on her reputation. Well, at least the characteristic silliness is still intact.
Manga Entertainment will release Vampire Knight: Volume 1 on the 22nd of November. Sony released Memories back in 2008, while Slayers Revolution was released courtesy of MVM last Monday.