Congo (UK)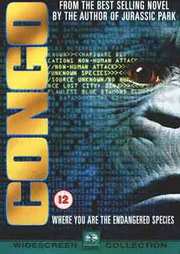 Where you are the endangered species
Certificate: 12
Running Time: 104 mins
Retail Price: £19.99
Release Date:
Content Type: Movie
Synopsis:
They`ve eluded heat-seeking missiles, gone eyeball-to-eyeball with enraged 5,000-pound hippos and hacked through a jungle curtain. Still, the expedition continues.

Amy, a gorilla who was part of a university learning experiment, is at last returning home. A professor (Dylan Walsh), electronics expert (Laura Linney, The Truman Show), guide (Ernie Hudson), explorer (Tim Curry) and others follow the scampering ape.

They know she will lead them to the place that`s more than her home - it`s the site of the fabled lost city of Zinj and its diamond mines. But what they don`t know can be fatal. Once they enter Zinj, they`ll be the endangered species!

From the best seller by Michael Crichton (Jurassic Park) comes an event-packed adventure filled with state-of-the-art technology and primal fear.
Special Features:
Interactive Menus
Scene Access
Theatrical Trailer
Teaser Trailer

Video Tracks:
Widescreen Anamorphic 1.78:1

Audio Tracks:
Dolby Digital 5.1 English
Dolby Digital Surround 2.0 Czech
Dolby Digital Surround 2.0 Hungarian
Dolby Digital 5.1 German

Subtitle Tracks:
Swedish
Finnish
Turkish
English
German
CC: English
Dutch
Danish
Norwegian

Directed By:
Frank Marshall

Written By:
John Patrick Shanley
Michael Crichton

Starring:
Grant Heslov
Tim Curry
Ernie Hudson
Laura Linney
Dylan Walsh

Casting By:
Mike Fenton
Allison Cowitt

Soundtrack By:
Jerry Goldsmith

Director of Photography:
Allen Daviau

Editor:
Anne V. Coates

Costume Designer:
Marilyn Matthews

Production Designer:
J. Michael Riva

Producer:
Sam Mercer
Kathleen Kennedy
Paul Deason
Michael Backes

Executive Producer:
Frank Yablans
Frank Marshall

Distributor:
Paramount Pictures