Star Trek: The Motion Picture The Director`s Edition (UK)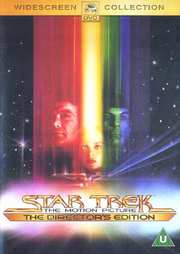 The human adventure is just beginning
Certificate: U
Running Time: 131 mins
Retail Price: £24.99
Release Date:
Content Type: Movie
Synopsis:
Leading the original Star Trek crew, WILLIAM SHATNER (Star Trek, Miss Congeniality, T.J. Hooker) stars as the infamous Captain T. Kirk with LEONARD NIMOY (director of Three Men and a Baby) as half human, half Vulcan Spock. DEFOREST KELLEY features as cynical and distrustful medical officer McCoy and JAMES DOOHAN (Loaded Weapon 1, Double Trouble) plays well-loved chief engineer Scotty.

The year is 2271, and the legendary Admiral James T. Kirk arrives back aboard the Enterprise to save earth. An unknown alien phenomenon of unprecedented size and power is hurtling towards it, destroying everything in its path. The ship has been in dry dock for three years, and although now technically advanced, its premature launch causes problems. The ship is caught in a dangerous worm-hole and Kirk`s unfamiliarity with the ship almost destroys it.

The crew learn the alien force, V`Ger, is a living machine and threatens to destroy all life on Earth to find its creator, who they believe humans are repressing. After three years, is Captain Kirk really up to the task of leading the Enterprise and averting world destruction before it`s too late?
Special Features:
DISC 1:

Feature film
Audio commentary by director Robert Wise, special photographic effects director Douglas Trumbull, special photographic effects supervisor John Dykstra, composer Jerry Goldsmith and actor Stephen Collins
Text commentary by Michael Okuda, co-author of "The Star Trek Encyclopaedia".

DISC 2:

New Retrospective Documentaries with cast and crew: including Phase 2: The Lost Empire; A Bold New Enterprise and Redirecting The Future
Teaser Trailer
Theatrical Trailer
New Director`s Edition Trailer
8 Television Commercials
Additional Scenes: 5 additional scenes from the 1979 Theatrical Version
Deleted Scenes: 11 deleted scenes taken from the 1983 TV version
Storyboard Archive
Interactive Menus
New ENTERPRISE promotional clip

Video Tracks:
Widescreen Anamorphic 2.35:1

Audio Tracks:
Dolby Digital 5.1 English
Dolby Digital 5.1 German

Subtitle Tracks:
Icelandic
Polish
Czech
Swedish
Finnish
Turkish
Romanian
English
German
CC: English
Hungarian
Dutch
Arabic
Danish
Norwegian
Bulgarian

Directed By:
Robert Wise

Written By:
Gene Roddenberry
Harold Livingston
Alan Dean Foster

Starring:
Mark Lenard
Grace Lee Whitney
Stephen Collins
Persis Khambatta
Majel Barrett
Nichelle Nichols
Walter Koenig
George Takei
James Doohan
DeForest Kelley
Leonard Nimoy
William Shatner

Casting By:
Marvin Paige

Soundtrack By:
Jerry Goldsmith
Gerald Fried

Music From:
Alexander Courage

Director of Photography:
Richard H. Kline

Editor:
Todd C. Ramsay

Costume Designer:
Robert Fletcher

Production Designer:
Harold Michelson

Producer:
Gene Roddenberry
Jon Povill
David C. Fein

Distributor:
Paramount Pictures