Review of Isle, The
Introduction
In many respects, `The Isle` is a unique movie. It`s the result of serious budget constraints and incredible imagination and creativity.
There`s no doubt that Director Kim Ki-Duk`s persuasive powers must be considerable as it`s almost impossible to imagine how he managed to raise the funds for the film based on initial descriptions of the narrative and approach. Yet here it is - and if you have the stomach to overlook some of the gorier extremities, it`s a really powerful film with some stunning cinematography.
A beautiful but slightly crazed mute, Hee-Jin, is caretaker to a large Korean Lake and she supplied the fisherman with `floating cabins` upon which they can sleep and fish. She also supplies food, coffee, drink and sex - both with herself, and by taking out local prostitutes to the `holidaying` men. She`s treated badly by these customer`s and her seething hatred of them is clear from the outset.
There`s little to like about any of the visiting fishermen - they are portrayed as hypocritical family men who are happy to phone their wives and daughters just minutes after having sex with one of the visiting women.
The film builds its atmosphere slowly, with some wonderful wide vistas of the lake in golden twilight, with the flotilla of colourful floating cabins looking painterly in the distance. The music is subtle - generally piano with a wash of strings, and it adds to the strange, growing tension of the narrative.
She takes a lone visitor (who we learn is a fugitive that has killed his wife and her lover) out to a cabin and he soon attracts her attention - culminating with her intervening in a suicide attempt. The two then form an intense but wordless relationship that frequently culminates in primitive and violent acts that could prove a little bit off-putting for some viewers. (The fugitive swallows a dozen fish hooks which have to be painfully removed from his mouth, and the girl later mirrors this act by seemingly inserting the same into her vagina).
It`s a crazy affair that culminates in more than one homicide.
The final scenes in the movie are particularly breath taking (for their beauty not their violence) as their floating hut appears to be floating out into an endless sea.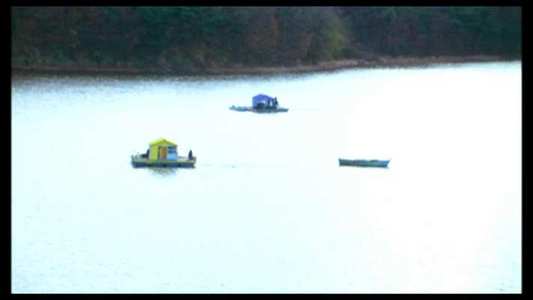 Video
Anamorphic 1.77:1 - and in pretty good shape. There is a general `softness` to the image throughout though and it`s hard to tell whether this was an intended look or just a less than perfect transfer. There are certainly no signs of digital artefacts to suggest that this might have been less than a well-tended transfer so I suspect it was a stylistic choice. (Not having seen this at the cinema I`m in no position to say for sure…)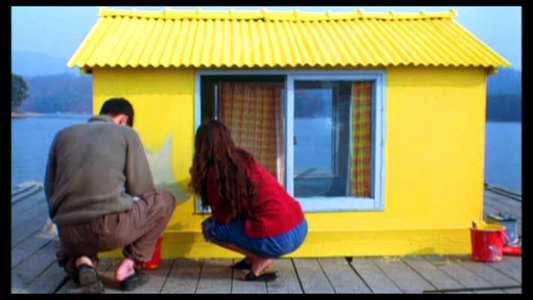 Audio
There are 3 options here. A Dolby Digital stereo mix, and two 5.1 Surround options (Dolby / DTS). I selected the DTS option and was entirely satisfied with what was a careful and subtle mix, where the rain effects and string washes are all put to the rear speakers. Very nice.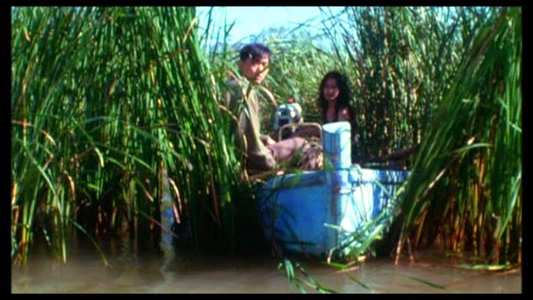 Features
EXTRA FEATURES
This disc comes well served with extras, most of which are interview based. They provide a fascinating insight into the making of this unique picture.
INTERVIEWS
There are a series of interesting interviews (all pretty short & home movie-ish) with all the key players, other than the enigmatic director! You get interviews with Lee Un (Producer), a number of critics (who curiously say good and bad things about the picture - how`s that for some Tartan honesty!) , Kim You Seek (the fugitive) and Suh Jung (the mute caretaker lady), Jean Sane-Youn (the musician responsible for the score), and finally Hwang Suh Shik (Cinematographer). All talk about their impressions of the Director amongst many other things…
MUSIC FEATURETTE
A lengthier interview with Jean Sane-Youn as well as plenty of extracts by way of illustration.
BEHIND THE SCENES
A very nice `making of` piece that shows the challenges of filming entirely on water. A nice touch is the picture in picture that shows the crew filming a scene, and the final scene itself.
ABOUT THE DIRECTOR
Curiously an interview with a studio CEO and financial backer. They wax lyrically about Kim Ki-Duk and as a consequence add to his enigmatic mythology.
ABOUT THE MOVIE
Another batch of talking heads going over some, by now, familiar territory.
ASIA EXTREME TRAILER REEL
Trailers for: Phone / Oldboy / Infernal Affairs / Infernal Affairs II / Into the Mirror / Save the Green Planet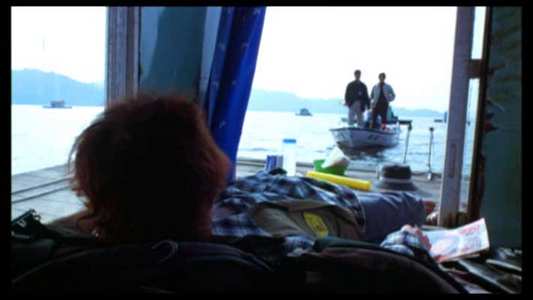 Conclusion
This movie (released in theatres five years ago) could possibly be one of the most thought-provoking films you`ll see on DVD this year. Though it raises many more questions than it answers, it`s ultimately a work of great depth and creativity.
The beautiful shots across the lake evoke a strange, alternative and almost dream-like world which is entirely based on (or in) water. As watery films go, this is as watery as it`s going to get!
Of course the more philosophical viewer will be able to make much of the metaphors about `floating through life` and psychologists will recognise the symbolism of the fish-hooks, though that doesn`t mean that this isn`t an extremely thought provoking film for the rest of us.
Although `The Isle` can (at times) make for some slightly queasy viewing, it`s a film that I`ll be watching again soon - for its wonderful cinematography, its powerful melancholic atmosphere and its haunting soundtrack. Recommended!