Dans Ma Peau (UK)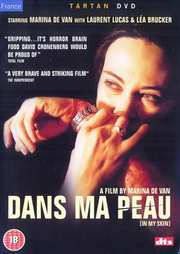 A brilliant, daring and uncompromising fim
Certificate: 18
Running Time: 97 mins
Retail Price: £19.99
Release Date:
Content Type: Movie
Synopsis:
After suffering deep gashes to her leg from an accidental fall, a young research analyst, Esther, becomes obsessed with her body and skin. At first merely caressing her arms, pinching her excess skin, and tracing the outlines of the fresh scar tissue on her legs. It isn`t long, however, before Esther begins carving new and increasingly brutal wounds into her body.
Despite her boyfriend`s anger and concern, Esther continues her intimate and bloody quest until her new found sense of self drives her to increased isolation. Directed by and starring Marina de Van (collaborator and star of a number of Francois Ozon titles such as Sitcom and 8 Women), Dans Ma Peau is a brilliant, daring and uncompromising fim that deserves its place in cinema history alongside the corporeal classics of George Franju, David Cronenberg and Roman Polanski.
Special Features:
Directors commentary. Original theatrical trailer. 4 page booklet with film notes.

Video Tracks:
Widescreen Anamorphic 1.78:1

Subtitle Tracks:
English

Directed By:
Marina de Van

Written By:
Marina de Van

Starring:
Dominique Reymond
Thibault de Montalembert
Léa Drucker
Laurent Lucas
Marina de Van