Alien Vs Predator (Special Edition) (UK)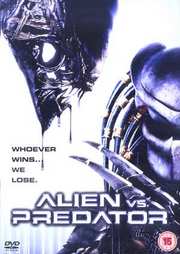 Whoever wins... We lose
Certificate: 15
Running Time: 97 mins
Retail Price: £22.99
Release Date:
Content Type: Movie
Synopsis:
Since the beginning of time, the Predators - feared, hulking alien game hunters - have come to Earth for one simple reason: to engage in a coming-of-age ritual. To enter manhood, the teenage Predators have to hunt down a hive of Alien warriors and successfully defeat them and claim the skulls as trophies. However, during one hunting session, the easily aggravated Aliens fight back, leading to the destruction of the two species as well as the Aztec people who worshipped the Predators as Gods.
Nearly two thousand years later, billionaire industrialist Charles Bishop Weyland (Lance Henriksen) uses satellite technology to rediscover the ancient pyramid buried thousands of feet under the ice of Antarctica. Knowing that he has uncovered something significant, Weyland recruits a team of experts led by Alexa Woods (Sanaa Lathan) and heads down to the Antarctic to find the pyramid. Once there, they make an even more terrifying discovery… two alien races at war!
Special Features:
Disc One: Commentary by Paul WS Anderson, Lance Henriksen and Sanaa Latham. Commentary by Alec Gillis, Tom Woodruff & John Bruno (special effects team). Inside Look Feature: Hide and Seek. Inside Look Feature: Elektra. Inside Look Feature: Robots.
Disc Two: Conception featurette. Visual effects featurette. Alien vs Predator: The Comic Book. Monsters in Miniature. HBO Special The Making of Alien vs Predator. ADI (Special Effects) Workshop. Miniature Whaling Station. Facehuggers and Eggs. Trouble at the Mouth of the Tunnel. Deleted scenes with optional commentary. Storyboard gallery. Concept art. Tom the Alien Actor. The Biggest Match-Up of All Time Clips.

Video Tracks:
Widescreen Anamorphic 2.35:1

Audio Tracks:
Dolby Digital 5.1 English
DTS 5.1 English

Subtitle Tracks:
French
Spanish
CC: English

Directed By:
Paul W.S. Anderson

Written By:
Ronald Shusett
Paul W.S. Anderson
John Thomas
Jim Thomas
Ronald Shusett

Starring:
Colin Salmon
Ewen Bremner
Lance Henriksen
Raoul Bova
Sanaa Lathan