Stargate SG1: Volume 5 (UK)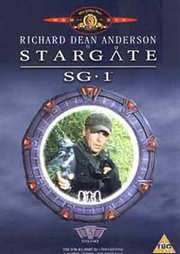 More episodes from the popular TV series
Certificate: PG
Running Time: 170 mins
Retail Price: £19.99
Release Date:
Content Type: TV Series
Synopsis:
The Tok`ra (Part II)
In order to save the Tok`ra race, one of them is allowed to inhabit the body of Carter`s father, who is dying from cancer. But as the two join together, the Goa`uld launch an attack and even if the Tok`ra survive, their entire planet may be destroyed.

Touchstone
The climate control device of a world with a turbulent weather system is stolen and SG-1 are accused of theft. The race is on to find to real thief before the ecosystems of the alien world, and Earth, are destroyed.

A Matter of Time
The SG-10 team is swallowed by a black hole. O`Neill battles to stop the force of the hole`s gravitational pull destroying the Earth.

The Fifth Race
O`Neill`s brain is infiltrated by a superintelligent force, which incapacitates him but reveals the secrets of the Stargate. Can Jackson recover the information and save O`Neill`s life?
Special Features:
Interactive Menus
Scene Access

Video Tracks:
Widescreen Anamorphic 1.78:1

Audio Tracks:
Dolby Digital Surround 2.0 Spanish
Dolby Digital Surround 2.0 German
Dolby Digital 4.0 English

Subtitle Tracks:
CC: German
Spanish
CC: English

Starring:
Alexis Cruz
Brent Stait
Don S. Davis
Christopher Judge
Amanda Tapping
Michael Shanks
Richard Dean Anderson

Casting By:
Paul Weber
Mary Jo Slater
Robin Nassif

Soundtrack By:
Tim Truman
Kevin Kiner
Joel Goldsmith
David Arnold

Director of Photography:
Peter F. Woeste

Editor:
Charles Robichaud
Allan Lee
James Ilecic
Daria Ellerman
Richard Benwick

Costume Designer:
Christina McQuarrie

Production Designer:
Richard Hudolin

Producer:
N. John Smith
John G. Lenic
Michael Greenburg
Ron French
Robert C. Cooper

Executive Producer:
Brad Wright
Jonathan Glassner
Richard Dean Anderson

Distributor:
Metro Goldwyn Mayer