Stargate SG1: Volume 30 (UK)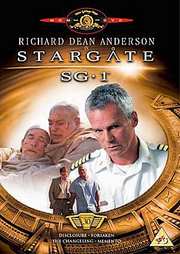 More episodes from the popular TV series
Certificate: PG
Running Time: 180 mins
Retail Price: £19.99
Release Date:
Content Type: TV Series
Synopsis:
Disclosure: General Hammond and the Pentagon are forced to reveal the existence of the Stargate to other world governments. Playing off fears that the U.S. military has too much control, Senator Kinsey suggests that General Hammond be relieved of his command and that the civilian-run NID oversee the Stargate program.

Forsaken: Exploring an off-world planet, SG-1 discovers a crashed ship and three human survivors who claim to be under constant attack by hostile aliens. While Carter helps repair the ship`s computer, she learns that the survivors are hiding a secret and things may not be all they seem.

The Changeling: Teal`c mysteriously begins to lose his grip on reality and is haunted by visions of an alternate existence where he is a normal human being. As his paranoia deepens, Teal`c must rely on the help and comfort of his old friend Daniel Jackson to determine where his dreams end... and his reality begins.

Memento: SG-1 accompanies the X-303 on its maiden voyage into deep space. When the ship suddenly drops out of hyperspace, SG-1 is stranded with no means of getting back to Earth. Their only option lies in exploring a nearby planet where a Stargate is thought to be located. But O`Neill must first convince its inhabitants that they come in peace - a debate that could mean the end of SG-1.
Special Features:
Audio commentaries featuring directors, cast and crew for every episode
Behind the scenes photo gallery for each episode

Video Tracks:
Widescreen Anamorphic 1.78:1

Audio Tracks:
Dolby Digital 5.1 English
Dolby Digital 5.1 Spanish
Dolby Digital 5.1 German

Subtitle Tracks:
CC: German
Finnish
CC: English

Starring:
Richard Dean Anderson
Amanda Tapping
Don S. Davis
Alexis Cruz
Michael Shanks
Christopher Judge
Brent Stait
Vaitiare Bandera

Casting By:
Robin Nassif
Paul Weber
Mary Jo Slater

Soundtrack By:
David Arnold
Kevin Kiner
Joel Goldsmith
Tim Truman

Director of Photography:
Peter F. Woeste

Editor:
Daria Ellerman
Allan Lee
Richard Benwick
James Ilecic
Charles Robichaud

Costume Designer:
Christina McQuarrie

Production Designer:
Richard Hudolin

Producer:
Ron French
Michael Greenburg
N. John Smith
Robert C. Cooper
John G. Lenic

Executive Producer:
Richard Dean Anderson
Jonathan Glassner
Brad Wright

Distributor:
Metro Goldwyn Mayer