Stargate SG1: Volume 27 (UK)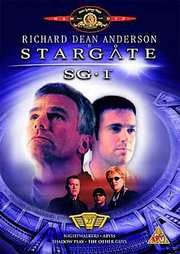 More episodes from the popular TV series
Certificate: PG
Running Time: 169 mins
Retail Price: £19.99
Release Date:
Content Type: TV Series
Synopsis:
Nightwalkers When a scientist working on stem cell research disappears, Carter, Teal`c and Jonas investigate and discover that the scientist`s town is infested with Goa`uld who can only control the townspeople by night. Will Carter, Teal`c and Jonas be taken over next?

Abyss A Goa`uld lord holds O`Neill captive and tortures him for information about the Tok`ra. As O`Neill suffers, Daniel Jackson appears and offers support. Meanwhile, SG-1 races to rescue O`Neill before it`s too late.

Shadow Play Jonas is conflicted when an old professor (Dean Stockwell) from his home planet asks SG-1 to help stage a coup against the Kelownan government in order to stop a civil war. Should SG-1 allow the planet to destroy itself... or are they placing themselves in needless danger?

The Other Guys Two bumbling scientists working on an off-world research project witness SG-1 getting captured in a Goa`uld raid and, defying orders, attempt to rescue it. Little do they know that SG-1 staged the capture in order to infiltrate the Goa`uld and make contact with a Tok`ra informant.
Special Features:
Nightwalkers commentary by director Peter DeLuise and director of photography Peter Woeste
Abyss commentary by Christopher Judge, director Martin Wood and visual effects producer James Tichenor
Shadow Play commentary by Peter DeLuise and Peter Woeste
The Other Guys commentary by Christopher Judge, Martin Wood and James Tichenor
Season 6 stills gallery 3
Volume 28 episode previews
Season 6 fan club spot

Video Tracks:
Widescreen Anamorphic 1.78:1

Audio Tracks:
Dolby Digital 5.1 English
Dolby Digital 5.1 Spanish
Dolby Digital 5.1 German

Subtitle Tracks:
Swedish
CC: English
Danish
Norwegian

Starring:
Vaitiare Bandera
Brent Stait
Christopher Judge
Michael Shanks
Alexis Cruz
Don S. Davis
Amanda Tapping
Richard Dean Anderson

Casting By:
Mary Jo Slater
Paul Weber
Robin Nassif

Soundtrack By:
Tim Truman
Joel Goldsmith
Kevin Kiner
David Arnold

Director of Photography:
Peter F. Woeste

Editor:
Charles Robichaud
James Ilecic
Richard Benwick
Allan Lee
Daria Ellerman

Costume Designer:
Christina McQuarrie

Production Designer:
Richard Hudolin

Producer:
John G. Lenic
Robert C. Cooper
N. John Smith
Michael Greenburg
Ron French

Executive Producer:
Brad Wright
Jonathan Glassner
Richard Dean Anderson

Distributor:
Metro Goldwyn Mayer