Stargate SG1: Volume 29 (UK)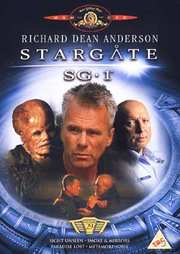 More episodes from the popular TV series
Certificate: PG
Running Time: 180 mins
Retail Price: £19.99
Release Date:
Content Type: TV Series
Synopsis:
Sight Unseen SG-1 returns from an off-world mission with an ancient artifact that triggers the ability to see hideous yet harmless life forms in a parallel reality. As the effect spreads to civilians off base, O`Neill and SG-1 must find a solution before mass hysteria breaks out.

Smoke And Mirrors Senator Kinsey suffers an assassination attempt while campaigning for the office of the president, and O`Neill is caught on tape leaving the building where the shots were fired. With O`Neill behind bars, Carter, Teal`c and Jonas must prove his innocence before it`s too late.

Paradise Lost Colonel Maybourne visits O`Neill and claims to have a key to a cache of alien technology - but he demands a presidential pardon for his crimes in exchange for the knowledge. When SG-1 accompanies Maybourne to retrieve the cache, they find that his intentions may not be all they seem.

Metamorphosis SG-1 discovers that Nirrti, in an attempt to create the perfect human host, is mutating the inhabitants of an unexplored planet with a machine that rearranges their DNA. Captured in an attempt to stop her, O`Neill must find a way to escape before he and SG-1 are subjected to the same fate.
Special Features:
Audio commentaries featuring directors, cast and crew for every episode
Behind the scenes photo gallery for each episode

Video Tracks:
Widescreen Anamorphic 1.78:1

Audio Tracks:
Dolby Digital 5.1 English
Dolby Digital 5.1 Spanish
Dolby Digital 5.1 German

Subtitle Tracks:
Finnish
English
German

Starring:
Vaitiare Bandera
Brent Stait
Christopher Judge
Michael Shanks
Alexis Cruz
Don S. Davis
Amanda Tapping
Richard Dean Anderson

Casting By:
Mary Jo Slater
Paul Weber
Robin Nassif

Soundtrack By:
Tim Truman
Joel Goldsmith
Kevin Kiner
David Arnold

Director of Photography:
Peter F. Woeste

Editor:
Charles Robichaud
James Ilecic
Richard Benwick
Allan Lee
Daria Ellerman

Costume Designer:
Christina McQuarrie

Production Designer:
Richard Hudolin

Producer:
John G. Lenic
Robert C. Cooper
N. John Smith
Michael Greenburg
Ron French

Executive Producer:
Brad Wright
Jonathan Glassner
Richard Dean Anderson

Distributor:
Metro Goldwyn Mayer