Ghost in the Shell Stand Alone Complex (UK)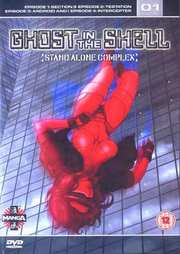 Major Motoko Kusanagi, the most popular female cyborg in anime history, is back!
Certificate: 12
Running Time: 140 mins
Retail Price: £19.99
Release Date:
Content Type: Movie
Synopsis:
Major Motoko Kusanagi, the most popular female cyborg in anime history, is back! Together with the rest of the officers of Section 9 and the ever-ready Tachikomas, she continues her mission to hunt down crime wherever it occurs in both the real and online world.
Episode titles: Section 9, Testation, Android And I, Interceptor.
Special Features:
Interview with director Kenji Kamiyama. Interview with Atsuko Tanaka (voice of Motoko). Episode profiles. Character profiles. Image gallery. Manga previews.

Video Tracks:
Widescreen Anamorphic 1.85:1

Audio Tracks:
Dolby Digital 5.1 English
Dolby Digital Stereo 2.0 Japanese
DTS 5.1 English
Dolby Digital 5.1 Japanese
Dolby Digital Stereo 2.0 English
DTS 5.1 Japanese

Subtitle Tracks:
English

Directed By:
Mamoru Oshii

Written By:
Masamune Shirow
Kazunori Itô

Starring:
Mimi Woods
Richard George
Atsuko Tanaka
Akio Ôtsuka
Tamio Oki

Casting By:
Takashi Watanabe

Soundtrack By:
Kenji Kawai

Director of Photography:
Hisao Shirai

Editor:
Shuichi Kakesu

Producer:
Makoto Ibuki
Ken Iyadomi
Yoshimasa Mizuo
Yasushi Sukeof
Hiroshi Yamazaki
Laurence Guinness
Mitsuhisa Ishikawa
Shigeru Watanabe

Executive Producer:
Andy Frain
Teruo Miyahara
Takashi Mogi

Distributor:
Manga Entertainment Ltd