Ghost in the Shell 2: Innocence (UK)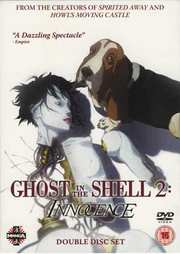 Humans love machines in 2029 A.D
Certificate: 15
Running Time: 96 mins
Retail Price: £19.99
Release Date:
Content Type: Movie
Synopsis:
The first ever anime film to be nominated for the Cannes International Film Festival`s highly prestigious Palme D`Or, Ghost In The Shell 2 - Innocence is a breathtaking technical and visual achievement four years in the making. A work that is as equally groundbreaking as its predecessor, it seamlessly combines 2-D and 3-D CG animation techniques to produce an action-packed, sci-fi fable of a solitary cyborg struggling to retain what`s left of his humanity in a world where the human soul is gradually fading into obscurity.
It is the year 2032 and Earth is a world where the few remaining humans coexist with cyborgs, human spirits inhabiting mechanized bodies, and dolls, robots with no human elements whatsoever. A cyborg detective for the government`s covert anti-terrorist unit Public Security Section 9, Batou is charged with investigating the bizarre case of a malfunctioning gynoid - a hyper-realistic female robot created specifically for sexual companionship - responsible for slaughtering its owner. Delving deeper and deeper into the investigation, Batou and his partner, Togusa, are forced to confront violent Yakuza thugs, devious hackers, influential government bureaucrats and powerful corporate criminals. As they move closer to uncovering the mystery, it slowly becomes apparent that the truth behind the crime is far more shocking than anyone dared imagine.
Special Features:
The Making Of Innocence featurette. Audio commentary by Mamoru Oshii (director) and Toshihiko Nishikubo (animation director) with subtitles. Face To Face Interview With Mamoru Oshii. Sneak Peak at Ghost In The Shell Stand Alone Complex 2nd Gig Volume 2, Episode 5. Full-length Japanese trailer. Manga trailers.

Video Tracks:
Widescreen Anamorphic 1.85:1

Audio Tracks:
Dolby Digital 5.1 English
Dolby Digital Stereo 2.0 Japanese
DTS 5.1 English
Dolby Digital 5.1 Japanese
Dolby Digital Stereo 2.0 English
DTS 5.1 Japanese

Subtitle Tracks:
English

Directed By:
Mamoru Oshii

Written By:
Masamune Shirow
Kazunori Ito

Starring:
Mimi Woods
Richard George
Atsuko Tanaka
Akio Otsuka
Tamio Oki

Casting By:
Takashi Watanabe

Soundtrack By:
Kenji Kawai

Director of Photography:
Hisao Shirai

Editor:
Shuichi Kakesu

Producer:
Makoto Ibuki
Ken Iyadomi
Yoshimasa Mizuo
Yasushi Sukeof
Hiroshi Yamazaki
Laurence Guinness
Mitsuhisa Ishikawa
Shigeru Watanabe

Executive Producer:
Andy Frain
Teruo Miyahara
Takashi Mogi

Distributor:
Manga Entertainment Ltd