Cyborg (UK)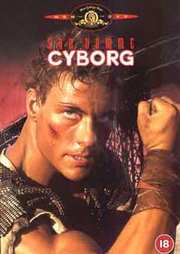 He`s the first hero of the 21st Century... and he`s our only hope
Certificate: 18
Running Time: 89 mins
Retail Price: £19.99
Release Date:
Content Type: Movie
Synopsis:
Martial arts wizard, Jean-Claude Van Damme carves out a dazzling new domain as the future`s most fearsome warrior in this adrenaline-charged sword and sci-fi thriller. Filled with non-stop action, Cyborg is a wild ride from start to finish - a post-apocalyptic battle against the ultimate evil.

Deteriorating from social anarchy and a deadly plague, Twenty-First Century America has descended into a seething, barbaric nightmare. Only Pearl Prophet, a beautiful human/robot, has the knowledge necessary to develop a vaccine. But during her quest to gather data and bring a cure to the world, Pearl is captured by Flesh Pirates who plot to keep the antidote for themselves... and rule the globe!

Now, only the awesome fighting skills of sabre-wielding hero Gibson Rickenbacker (Van Damme) can rescue her - and save what remains of civilisation.
Special Features:
Interactive Menus
Scene Access
Original Theatrical Trailer

Video Tracks:
Widescreen Anamorphic 1.85:1

Audio Tracks:
Dolby Digital Surround 2.0 English
Dolby Digital Stereo 2.0 Spanish
Dolby Digital Mono French
Dolby Digital Stereo 2.0 Italian

Subtitle Tracks:
French
Polish
CC: German
Italian
Swedish
Finnish
English
Spanish
German
CC: English
Portuguese
Dutch
Danish
Norwegian

Directed By:
Albert Pyun

Written By:
Kitty Chalmers

Starring:
Dayle Haddon
Alex Daniels
Vincent Klyn
Deborah Richter
Jean-Claude Van Damme

Soundtrack By:
Kevin Bassinson

Director of Photography:
Philip Alan Waters

Costume Designer:
Heidi Kaczenski

Production Designer:
Douglas H. Leonard

Producer:
Tom Karnowski
Menahem Golan
Yoram Globus

Distributor:
United Artists
Metro Goldwyn Mayer