Supernova (Australia)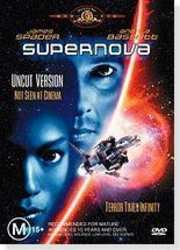 In the farthest reaches of space, something has gone terribly wrong
Certificate: M15+
Running Time: 87 mins
Retail Price: 34.95
Release Date:
Content Type: Movie
Synopsis:
Beyond comprehension, beyond imagination and beyond the deepest regions of this galaxy... life as we know it is about to end! James Spader and Oscar nominee Angela Bassett strike sparks and Lou Diamond Phillips, Oscar nominee Robert Forster and the mesmerizing Robin Tunney are stunning in this spectacular sci-fi thriller that expands the universe of suspense to a whole new realm of raw power and unspeakable terror.

In the farthest reaches of deep space, the medical vessel Nightingale keeps a lonely vigil for those in trouble. When a frantic cry for help pierces the void, the crew responds with a near fatal, hyperspace dimension jump into the gravitational pull of a dying star.

The disables ship rescues a shuttlecraft containing a mysterious survivor and a strange alien artifact. Now the crew must unravel a chilling secret and the nearby imploding star before the forming supernova blasts them and entire galaxy into oblivion.
Special Features:
Original Theatrical Trailer
Alternate Ending
Multiple Subtitle Options
Deleted Scenes

Video Tracks:
Widescreen Anamorphic 2.35:1

Audio Tracks:
Dolby Digital 5.1 English
Dolby Digital 5.1 French
Dolby Digital 5.1 Spanish
Dolby Digital 5.1 German
Dolby Digital Stereo 2.0 English

Subtitle Tracks:
French
Polish
Italian
Swedish
Finnish
English
Spanish
German
Portuguese
Dutch
Danish
Norwegian

Directed By:
Jack Sholder
Francis Ford Coppola
Walter Hill

Written By:
Daniel Chuba
David C. Wilson
William Malone

Starring:
James Spader
Robert Forster
Angela Bassett
Wilson Cruz
Robin Tunney
Peter Facinelli

Casting By:
Mary Jo Slater

Soundtrack By:
David C. Williams

Director of Photography:
Lloyd Ahern II

Editor:
Michael Schweitzer
Melissa Kent
Freeman A. Davies
Francis Ford Coppola

Costume Designer:
Bob Ringwood

Production Designer:
Marek Dobrowolski

Producer:
Ash R. Shah
James R. Johnston III
Jamie Dixon
Daniel Chuba

Executive Producer:
Ralph S. Singleton

Distributor:
United Artists
Metro Goldwyn Mayer