Bourne Identity, The (Special Edition) (UK)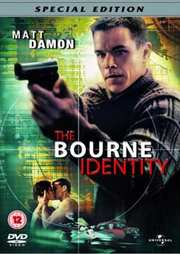 He was the perfect weapon until he became the target
Certificate: 12
Running Time: 113 mins
Retail Price: £15.99
Release Date:
Content Type: Movie
Synopsis:
A man who may or may not be Jason Bourne (Matt Damon) is found floating in the Mediterranean Sea and is hauled onto a fishing boat. When the ship`s doctor examines the unconscious castaway, he discovers two bullet wounds and an implanted device that displays a Swiss bank account number. With nothing but this code, the amnesiac Bourne travels to Zurich and gains access to a safe-deposit box containing a gun, thousands of dollars in various currencies, and valid passports from numerous countries - each listing a different identity. Within minutes, Bourne is on the run from a seemingly ever-present agency, relying on language and fighting skills he didn`t even know he possessed!

Offering $20,000 for a ride to Paris, Bourne gains the reluctant help of the nomadic Marie (Franka Potente). Meanwhile, the shadowy organization, headed by a tough-talking bureaucrat (Chris Cooper), sends numerous assassins (including the Professor, played by Clive Owen) after Bourne and Marie. As their situation grows more perilous, the two strangers struggle to find out who Bourne really is and why they are being hunted...
Special Features:
Matt Damon: From Identity To Supremacy. Deleted scenes. Inside a Fight Scene. Cloak and Dagger: Covert Ops. The Bourne Diagnosis. The Bourne Mastermind.

Video Tracks:
Widescreen Anamorphic 2.35:1

Audio Tracks:
Dolby Digital 5.1 English

Subtitle Tracks:
CC: English

Directed By:
Doug Liman

Written By:
Robert Ludlum
Tony Gilroy
W. Blake Herron

Starring:
Matt Damon
Franka Potente
Chris Cooper
Clive Owen
Brian Cox
Adewale Akinnuoye-Agbaje
Gabriel Mann
Walt Goggins
Josh Hamilton

Casting By:
Joseph Middleton

Soundtrack By:
Moby
Paul Oakenfold
John Powell
Joel J. Richard
James McKee Smith

Director of Photography:
Don Burgess
Daniel Mindel
Oliver Wood

Editor:
Saar Klein

Production Designer:
Dan Weil

Producer:
Patrick Crowley
Richard N. Gladstein
Doug Liman
David Minkowski
Matthew Stillman
Andrew R. Tennenbaum

Executive Producer:
Robert Ludlum
Frank Marshall

Distributor:
Universal Pictures