Review of Tenchi Muyo: OVAs Vol. 2
Introduction
Imagine if you will, being a teenaged boy and having beautiful girls throwing themselves at you. The basis of many an adolescent fantasy, I can assure you. But for Tenchi Masaki this is no idle fantasy, especially after he unwittingly unleashes an attractive demon from a family shrine. Ryoko`s pursuit of him is merely the herald for increasingly strange events, as soon female visitors from space in the form of the Juraian princesses Ayeka and Sasami soon arrive, quickly followed by clumsy Galactic Police Officer Mihoshi. If nothing else, he`s certainly kept on his toes.
My introduction to Tenchi Muyo being this second disc, resulted in some quick Internet research for the introduction, and the first episode on Volume 2, the final in the first OAV series is hardly the best place to start, resolving a cliff-hanger from Volume 1. There are four episodes in total on this disc and they are as follows.
6. We Need Tenchi
Tenchi has vanished, so the girls work together to rescue him from the clutches of the dastardly Kagato and his deadly spaceship. Only Kagato is holding another captive, Washu who has a strange connection to Ryoko.
7. The Night Before Carnival
Life is returning to what passes for normal in Tenchi`s household, with Ryoko and Ayeka turning to literature for advice on how to woo Tenchi, and competing for his affections. They also conspire to get rid of their rivals, most noticeable Mihoshi. But the 20000-year-old scientist Washu has her own plans to experiment on Tenchi, and all she needs are a couple of samples.
8. Hello! Baby
Tenchi has to baby sit his nephew, and consequently all the girls, inexperienced as they are with babies, join in to help. It falls to Washu to show them all how to take care of a child, and soon she`s feeling broody, revealing a whole new side of herself.
9. Sasami and Tsunami.
The family take another break at the hot springs resort previously damaged by Mihoshi`s arrival. Pretty soon the older members of the group are set to repairing the damage they caused. Then they start seeing a ghostly image wandering the halls, and Sasami starts acting very strangely.
Video
This is an older anime, and that can be seen in the style of animation. The characters are more free flowing and not as meticulously defined. The colours aren`t as vibrant as more recent anime either. The 4:3 transfer itself is very clean, with no complaints on my part. And while on generally, the design is unremarkable; there are moments of visual inventiveness, most notably Kagato`s behemoth of a ship, with its curious mirrored world. The characters are distinctive and well drawn, with the curious exception of Tenchi himself, who is pretty nondescript and average.
Audio
This is more like it. You get a choice of DD 2.0 English or Japanese, as well as a DD 5.1 Japanese track. The English sounds Ok, but the character voices sound odd indeed once you have heard the original Japanese version. The music harks back to eighties pop tunes, and are as light and frothy as the programme, The surround is effectively used during the action sequences, most notably during the first episode on this disc, and it`s nice to see the original language track getting priority over the dub. The subtitles are translated English.
There is a minor sound fault though, the preview for episode 7 that immediately follows episode 6 only has the DD 2.0 Japanese sound.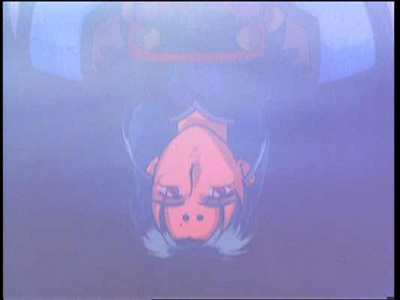 Features
Just the jacket picture, and a set of trailers for other MVM releases.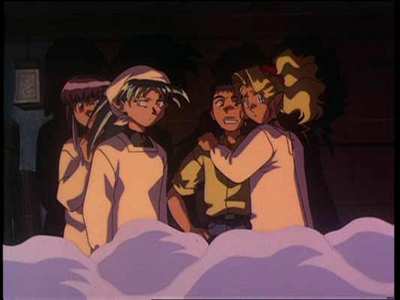 Conclusion
Episode 6 certainly threw me in at the deep end, with a cliffhanger to be resolved. Everyone was serious and seeking revenge, and there was plenty of action to go around. (For those who find that George Lucas isn`t enough for a lightsaber fix, there are some more flashing blades in this episode) It wasn`t until the rescue of Washu that I got an idea of the irreverent humour that permeates Tenchi Muyo. The other three episodes are certainly better examples of this, as the women around him lustily pursue the hapless teenager. It`s lucky for him that they spend more time fighting each other.
Tenchi Muyo like all the good anime is full of wit and humour and not a little heart. Ryoko is forthright and open with her intentions towards Tenchi, and makes no bones about defeating her rivals. Princess Ayeka on the other hand has to weigh her regal responsibilities with her passion for Tenchi. Mihoshi is the ditzy blonde stereotype in the situation that actually stands the best chance of getting Tenchi, if only because she is left to pursue him, while Ryoko and Ayeka are quarrelling. That is until Washu arrives, who takes a far more clinical approach to Tenchi. The scene where she seeks to obtain a sperm sample is hilarious, and also ensures that Tenchi Muyo isn`t for the younger viewer.
Tenchi Muyo is less about Tenchi himself than it is about the women who pursue him, and while his character is fairly nondescript, the other characters are very well drawn indeed. The temptation to descend into prurience is never taken, and Tenchi Muyo is wholesome entertainment throughout. Like all anime, there is a story running through the episodes, and it is enough to pique the interest, but the episodes are a joy to watch, with spot on humour and engaging stories. While there are laughs aplenty, there is also a warmth to the stories that I didn`t expect. Tenchi Muyo is definitely worth watching.