Anime Review Roundup
Timely Delays?
This time last week, I was having a whinge about all of August's anime releases bunching up to the last two weeks, leaving me a little frazzled of nerve, square of eye, and RSI of typing fingers. And then last week, the major anime distributors all announced their delays. MVM's
Love Live
comes out on September 7th now, while their
No Game, No Life
has slipped to October 5th. Anime Limited's
Sword Art Online II: Volume 1
now comes out on September 21st, and Animatsu's
Chunibyou
has slipped to September 7th,
A Certain Magical Index
to September 14th, and Manga Entertainment's
Puella Magi Madoka Magica
movie twinpack is now set for October 12th (The Madoka Magica Rebellion movie is unchanged and will now come out first, in September). It's like the M25 suddenly cleared of a traffic jam! It might be good news for a frazzled reviewer, but not so much the eager anime fan, and considering I'm both, I'm confused...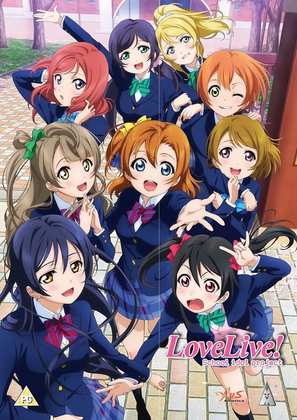 Given the delays, I should have reviewed Muv Luv first, but I needed a little light school idol comedy to break up the giant robot action shows. You might not believe me when I say that
Love Live! School Idol Project
is sort of a cross between K-On! and Girls und Panzer, but it really is. A high school is in danger of closing, and in order to save it, one enterprising girl starts an after school club in order to raise the school's profile, by entering into national contest. The difference is that it's not a tank warfare club, it's a girl idol pop group club. Cue plenty of light and frothy comedy, catchy pop songs, heart-warming friendship, and the occasional moving character drama. Click on the review to see what I thought of the DVD, although I didn't get to see the goodies that come with this Collector's Edition.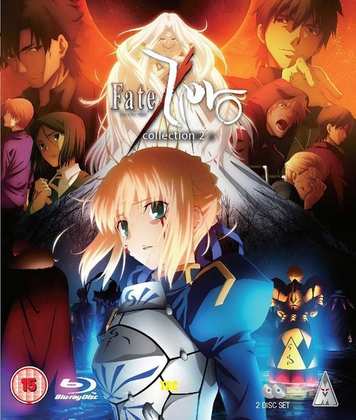 A few weeks ago, I upgraded the first part of Fate Zero to Blu-ray. It was therefore inevitable that I would get around to part 2 as well. I'm still surprised by how good this show turned out, especially after the dispiriting experiences I had with the first Fate/Stay Night adaptation, and the Unlimited Blade Works feature film. It's as if they had to have a couple of trial runs before they could figure out how to make the story work, and in the end it fell to Studio ufotable to really understand how the Type Moon universe is best interpreted. No surprise given that they did the Garden of Sinners movies (incidentally the US is finally getting a standard edition Blu-ray of Garden of Sinners, albeit imported from Japan if you want to shell out some serious money), and in their hands, the sublime storytelling and characterisation of Fate Zero really shines through. Click on the review for
Fate Zero Part 2
to read more.
This Week I've Been Mostly Rewatching...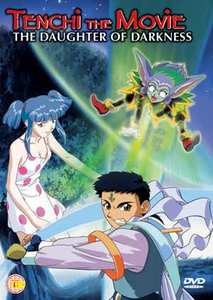 Tenchi Muyo The Movie: Daughter of Darkness. My reviews for the Tenchi franchise were all over the place. I started off with volume 2 of the OVA series, then did volume 1 and 3, and after that this second feature film spin-off was the first that I watched. Watching things arse-backwards and out of context is no way to enjoy something, and on top of that I had half an eye on the technical qualities of the disc, which with its letterbox format and zoom unfriendly subtitles were an impediment to enjoyment to say the least. I've now got a Blu-ray player that lets me shift the subtitle placement, so I can finally watch the film zoomed in (although that certainly isn't pretty), but I'm not distracted by the need to review the thing, and I know where the film sits in context. Which given that it sits outside the series continuity and does its own thing means you can enjoy it without reservation. It's a fine film too, short at just 60 minutes, and very emotive. Tenchi suddenly finds himself with a grown up daughter (it's sci-fi, go with it), and the other girls in his harem suddenly have a new rival. But Mayuka's a plant by a vengeful sprite named Yuzuha, who's got it in for the Jurai family, and especially Yosho's grandson. It's pretty standard anime fare when it comes to the storyline, but the way the film tugs on the heartstrings is pretty much peerless.
Here's my review of
Tenchi Muyo The Movie: Daughter of Darkness
, but it goes without saying that I like it a whole lot more now. The Tenchi Muyo franchise's UK outlet was MVM and they released the first OVA series and the movies, but that license has now lapsed, the discs deleted. A cursory search of Amazon revealed that the movie boxset is available second hand in the UK, but the individual discs are harder to find. Funimation in the US has recently re-released the series and the movies on Blu-ray, which is how I really want to see the franchise, but as my karma usually dictates, it's all locked to Region A!
As mentioned earlier, Love Live! School Idol Project Collector's Edition Season 1 DVD has been pushed back to September 7th by MVM. They released Fate Zero Part 2 on Blu-ray and DVD back in 2014.