Review of Blue Crush
Introduction
You can think of Blue Crush as a formula sports teen film with girl power and that would sum it up without any need to see it. As the underdogs of this male dominated sport, they have to prove themselves as capable in order to surf pipe like the guys. Our underdog, Anne Marie (Kate Bosworth) is an extremely talented surfer but a near fatal accident a little while ago knocked her confidence and she remains unsure of herself. Timing couldn`t be better with the Pipe Masters surfing contest coming up and Anne Marie determined to prove her top form in front of the world`s top sponsors.
Mix in a bit of romance with a holidaying football player, a dysfunctional family and strained friendships and Anne Marie has enough to cope with on top of her training. The clichéd big contest showdown will reveal all.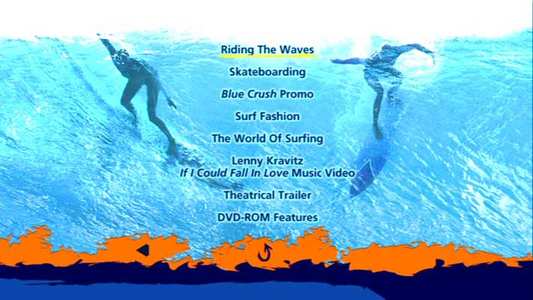 Video
Blue Crush has a good 1.85:1 widescreen enhanced video transfer. It`s colourful and bright with minimal signs of grain. The Hawaii backdrop lends lush colour to the film and keeps it interesting. The surfing too looks good and is well filmed. The quality of the CGI is mixed with some shots being obvious.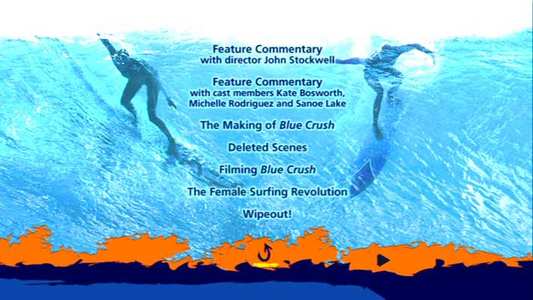 Audio
This has a very full sounding DD5.1 soundtrack. There`s some good rear surround action from the start of the film and it continues pretty much all the way through. The quieter moments too use the surrounds well with nice ambient effects. Dialogue is clear from the centre.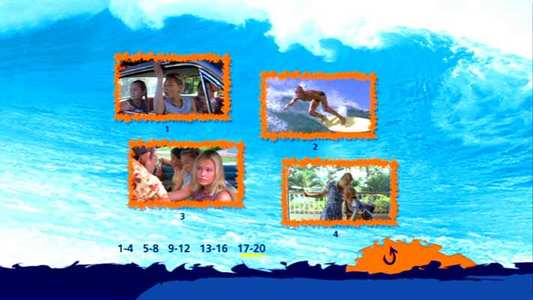 Features
Easy to navigate animated menus with a wealth of extras for the die-hard extras fanatics among you.
• Audio Commentary 1 (subtitled) - this is with Director John Stockwell and is actually an interesting extra. Stockwell talks about all manner of things connected with the filming, casting and anything else that might seem interesting. For an average film, this is a better than average commentary.
• Audio Commentary 2 (subtitled) - this is a cast commentary with our leading surfer gals Kate Bosworth, Michelle Rodriguez and Sanoe Lake. Believe it or not, three giggly girls in one room with microphones results in an interesting and fun commentary.
• The Making of Blue Crush (subtitled) (14:33) - The usual PR affair, this is a bit on the dull side.
• 8 Deleted Scenes (subtitled) (18:00) - With optional director commentary, it`s good these scenes were cut. The only scene that I found interesting was watching the girls working out in the gym.
• Filming Blue Crush (3:48) - With optional director commentary, this is a short piece on the technical aspects of shooting surfers on and around the water and waves and was partly interesting.
• The Female Surfing Revolution (1:55) - Female surfers talking about breaking into a male dominated sport and doing their own thing.
• Wipeout! (1:42) - With optional director commentary, this is a montage of surfers falling off boards on the waves.
• Riding the Waves: The Girls (2:36) vs. The Guys (2:26) - Surplus surf footage with optional director commentary. These scenes feature top class surfers and it`s great to see them play with waves. Commentary is okay.
• Skateboarding (2:17) - With optional director commentary, this piece covers the skating in the film but it`s nothing interesting.
• Blue Crush Promo (2:34) - This was a promo cut together to keep studio execs content about the potential excitement of watching surfers. All it features is nice looking surfer footage, but no film as such.
• Surf Fashion (4:59) - Sanoe Lake and Jessica (from Billabong) show us the surf fashions and other "dope gear". Interesting if you`re a fashion victim but otherwise uninteresting.
• The World of Surfing (static pages): Surfing: The Original Extreme Sport, Surf Lingo, Wave Nomenclature, Surfboards, Surf World and Surf`s Up. There`s a couple of dozen pages for those that want to brush up on their surf jive.
• Lenny Kravitz, If I Could Fall In Love, Music Video (5:22) - Unimaginative video.
• Theatrical Trailer (2:23) - Standard dull fare attempting to make the film look better than it is...
• DVD-ROM Features - I can`t comment on this as it didn`t work. Other Universal/PC Friendly (InterActual) DVDs work so I don`t know what the problem is with this title, suffice to say that there is no DVD-ROM content on the disc and it may link to the Universal website instead (which still didn`t function).
A lot of bonus features here with only the audio commentaries being the interesting elements. There are English and five other language subtitle options.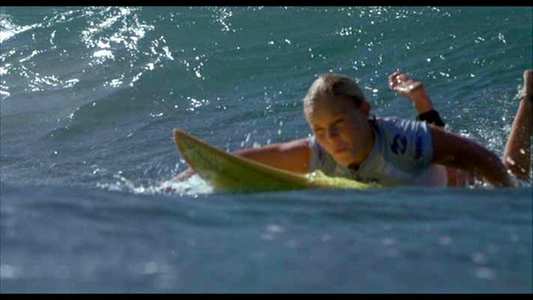 Conclusion
I have no interest in surfing, but I freely admit that my shallow interest in this film was piqued by the thought of scantily clad surfer gals. Blue Crush is yet another film based upon a magazine article, this time "Surf Girls of Maui" by Susan Orlean. While the article might make for interesting reading, there`s little substance in anything other than the surfing to make a film from.
The film tries to mix in other aspects of storytelling melodrama such as the rebellious younger sister and disappearing mother storyline, but these don`t come off well. The conquering of a fear, caused by a previous accident, isn`t particularly interesting either, as there`s no emotion in the acting. The little-known surfer-girl subculture fares better but what this leaves us with is a predictable 100-minute film.
While Blue Crush does feature incredibly skilled surfers and some excellent photography, surfing alone is not enough to hold this film up as anything more than an average teen film with a good looking cast. If you enjoy light and predictable films then put this no-brainer on your list.