American Werewolf In London, An: Special 21st Anniversary Edition (UK)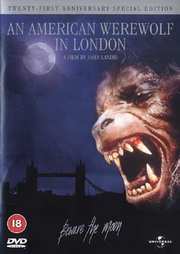 "Keep off the road and keep clear of the moors"
Certificate: 18
Running Time: 93 mins
Retail Price: £19.99
Release Date:
Content Type: Movie
Synopsis:
David Naughton and Jenny Agutter star in writer/director John Landis` classic cult black comedy. American backpackers David Kessler (David Naughton) and Jack (Griffin Dunne) take off for a three month European jaunt. Walking in the desolate English countryside, they come across some locals who give them chilling words of advice: "Keep off the road and keep clear of the moors" and "Beware of the moon." The boys set off into the darkness and hear a terrifying howl from across the moors, unaware that they are being stalked by a mythical beast with a taste for blood. Those who are killed by this creature become the undead, roaming the earth throughout eternity, but anyone who escapes with his life has a different fate in store...
Special Features:
Actors commentary
Behind the scenes
Outtakes
Interview with John Landis
Interview with Rick Baker
Focus on technical effects
Storyboard to film comparison
Stills gallery
4 page booklet with production notes

Video Tracks:
Widescreen Anamorphic 1.78:1

Audio Tracks:
Dolby Digital 5.1 English

Subtitle Tracks:
CC: English

Directed By:
John Landis

Written By:
John Landis

Starring:
David Naughton
Jenny Agutter
Griffin Dunne
Don McKillop
Paul Kember

Casting By:
Debbie McWilliams

Soundtrack By:
Elmer Bernstein

Director of Photography:
Robert Paynter

Editor:
Malcolm Campbell

Costume Designer:
Deborah Nadoolman

Producer:
George Folsey Jr.

Executive Producer:
Peter Guber
Jon Peters