Trading Places (UK)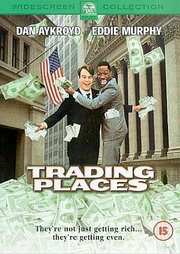 They`re not just getting rich... they`re getting even.
Certificate: 15
Running Time: 112 mins
Retail Price: £15.99
Release Date:
Content Type: Movie
Synopsis:
What happens when a Wall Street tycoon meets a street smart hustler? Find out in the comedy classic that helped launch the careers of two Hollywood superstars - Eddie Murphy and Jamie Lee Curtis. From acclaimed director John Landis comes the story of a down-and-out con artist who trades lifestyles with a well-to-do investor (Dan Aykroyd). Two wealthy power players (Don Ameche and Ralph Bellamy) set the wheels turning with a crazy bet... and, from there, the comedy gets richer by the minute!
Special Features:


Video Tracks:
Widescreen Anamorphic 1.78:1

Audio Tracks:
Dolby Digital 5.1 English
Dolby Digital Mono Spanish
Dolby Digital Mono German
Dolby Digital Mono Italian
Dolby Digital Mono French

Subtitle Tracks:
French
Hebrew
Icelandic
Polish
Czech
Italian
Swedish
Finnish
Turkish
Romanian
English
Spanish
German
Portuguese
Greek
Croatian
Hungarian
Dutch
Arabic
Danish
Norwegian
Bulgarian
Slovenian

Directed By:
John Landis

Written By:
Herschel Weingrod
Timothy Harris

Starring:
James Belushi
Jamie Lee Curtis
Denholm Elliott
Don Ameche
Ralph Bellamy
Eddie Murphy
Dan Aykroyd

Casting By:
Bonnie Timmermann

Music From:
Elmer Bernstein

Director of Photography:
Robert Paynter

Editor:
Malcolm Campbell

Costume Designer:
Deborah Nadoolman

Production Designer:
Gene Rudolf

Producer:
Aaron Russo

Executive Producer:
George Folsey Jr.

Distributor:
Paramount Pictures