Darkness Series, The: Box Set (3 Discs) (UK)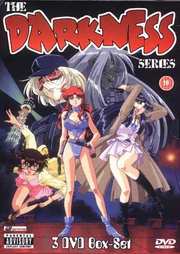 3 movies
Certificate: 18
Running Time: 0 mins
Retail Price: £15.99
Release Date:
Content Type: TV Series
Synopsis:
Alien Of Darkness: The all female crew of the transport ship Muse is on a mission in deep space. They pick up an SOS signal and discover a derelict space crusier whre all the women have died mysteriously. They take the only survivor, a young woman named Flair and detonate the ghost ship. However, the danger is just beginning. With Flair on the muse, the romance between the women begins to take a new turn. One by one, the crew members are attacked by a mysterious alien presence, desperate to find a way to reproduce with human women.


Idol Of Darkness: Up and coming pop idol star Ikumi Murase seems to have everything a girl could want - beauty, fame, fortune and even a handsome boyfriend! But not everyone is pleased with Ikumi`s success. Akira, Ikumi`s beau, is starting to resent the fact that she never has time for him. To top it off, Ikumi`s jealous co star Ms Lieh wants to bring Ikumi down at any cost even if it means summoning an ancient demon.


Mission Of Darkness: At the same time that a mysterious meterorite drops from space, women are being discovered murdered all over Japan with holes in them containing alien semen. The government uses passion filled hormones to lure the monster into a trap, but then the monster becomes more powerful than ever.
Special Features:


Video Tracks:
Standard 1.33:1

Audio Tracks:
Dolby Digital Stereo 2.0 English

Subtitle Tracks:
English