Buffy The Vampire Slayer: Season 4 Boxset (UK)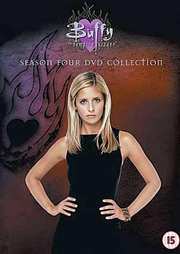 The six disc set
Certificate: 15
Running Time: 990 mins
Retail Price: £79.99
Release Date:
Content Type: TV Series
Synopsis:
Season Four sees Buffy, Willow and Oz going to college at UC Sunnydale. Buffy immediately comes face-to-face with the leader of a gang of vampire thieves named Sunday. If that wasn`t bad enough, we learn that Buffy`s roommate (who has a Celine Dion poster) Kathy is a demon. We are also introduced to Professor Walsh, Buffy`s mean Psych teacher.


The Freshman: Buffy moves into her dorm and attempts to adjust to college life. Everything around her seems to have changed without the constant interaction with the gang she had in High School. With Giles becoming a `gentleman of leisure`, Willow getting more and more excited about college and Xander still away on his road trip, she again believes that she must fight and survive on her own when she discovers a gang of tough vampires operating on campus.


Living Conditions: Dorm life proves to be a challenge as Buffy has to deal with a roommate who is more than a little bit difficult. Kathy continually imposes her idiosyncrasies onto Buffy and even begins to invade her dreams which has Buffy acting just a little too strange about the situation.


The Harsh Light Of Day: Spike returns to Sunnydale with his new girlfriend Harmony who is now also a vampire. Spike is searching for the Gem of Amara, a stone which makes vampires invulnerable, which he believes is buried somewhere under Sunnydale...


Fear Itself: To help Buffy get over the pain of having been used by Parker, the gang head to a fraternity Halloween party expecting a few cheap scares and a bit of harmless fun. Unfortunately, some accidental magic turns the party into a house of horrors where everyone`s fears come to life.


Beer Bad: Still trying to come to terms with Parker`s womanising, Buffy starts to hang out at the college bar where she and a group of upperclass students really regress when they start drinking a `special` beer.


Wild At Heart: Oz escapes from his cage during a full moon and runs across another werewolf; the sultry, sexy singer Veruca and wakes up next to her naked in the wilderness the next morning. Veruca scoffs at his cage-living habits, and tells him that the wolf is part of him; he should just run free and kill people. Oz blows her off, but doesn`t want her running free the night of the full moon, so he fixes up his cage, invites her over, and locks her in with him...


The Initiative: Spike, after being captured by commandos, is being held hostage by them in a hi-tech facility underneath the University as part of a demon hunting crusade known as `The Initiative`...


Pangs: Angel covertly comes to Sunnydale fearing Buffy is in danger. While digging for a new Cultural Centre at the college, Xander falls into a sacred Indian burial area and releases Hus, a vengeance spirit of the Chumash Indians, the original residents of the Sunnydale area.


Something Blue: Willow, in her attempt to get over Oz, casts a spell that ends up causing all sorts of chaos for the gang. Giles goes blind, Xander becomes a demon magnet, and Buffy and Spike fall in love and get engaged!


Hush: The entire town of Sunnydale goes silent when a group of fairy tale demons called The Gentlemen appear and steal everyone`s voices. Buffy and gang must solve the mystery and overcome the bad guys without being able to discuss anything...


Doomed: Buffy and Riley have to work out their relationship given their new understanding of what they do. An earthquake rocks Sunnydale and Buffy worries that it could signify the end of the world.


A New Man: At Buffy`s 19th birthday party, Giles finally realises that he is a middle-aged man hanging around with a bunch of teenagers and starts to get depressed about his life. He feels even more like the third wheel when he finds out about Riley and the Initiative, which Buffy neglected to tell him about. When Ethan Rayne returns to town, instead of kicking his butt back to England, Giles goes for a drink with him. The next morning Giles wakes up and notices that he has turned into a demon...


The `I` In Team: Buffy becomes familiar with the Initiative and begins to work with them although they are still unaware of her true power as a Slayer. After Buffy abandons her friends at the Bronze for a mission with the Initiative, Buffy and Riley consummate their relationship unaware that they are being watched on a hidden camera by Walsh.


Goodbye Iowa: Buffy and Riley get mutually suspicious of each other when Buffy reveals that Professor Walsh tried to have her killed. When Professor Walsh is found dead things get even more out of hand, with the commandos quick to blame Buffy.


This Year`s Girl: Faith, still in a coma in the hospital, is dreaming of being pursued by Buffy. Riley, partially recovered from his encounter with Adam leaves the Initiative infirmary and joins up with Buffy. While Buffy and gang plot how to go after Adam, Buffy finds out that Faith has awoken. Faith wants revenge and confronts Buffy...


Who Are You?: After Faith switches bodies with Buffy via the device that was left for her by the Mayor, she begins to slip into Buffy`s life. When the police try to take away Faith (Buffy in Faith`s body) she is kidnapped by a special group from the Watcher`s Council.


Superstar: Jonathan advises Buffy and Riley about their relationship and the Initiative has Jonathan consult on how to track and kill Adam. A beast attacks a girl outside Jonathan`s mansion but he seems to be afraid of hunting it...


Where The Wild Things Are: Buffy and Riley`s round-the-clock exploration of each other awakens the spirits of children who were sexually repressed by their foster mother back when Lowell House was a home for orphaned and runaway kids.


New Moon Rising: Tara and Willow`s relationship seems to be progressing when Oz returns to town. Through his travels Oz has found a combination of charms, potions and meditation that allows him to avoid turning into a werewolf. When Oz discovers that Willow and Tara are more than friends he loses control...


The Yoko Factor: Adam enlists Spike to turn the gang against each other, leaving Buffy alone and helpless.


Primeval: Adam informs Riley that he has a behavior modification chip wired to his central nervous system behind his heart; through the chip Adam has complete control over Riley...


Restless: Buffy, Xander, Giles and Willow sit down to watch videos after defeating Adam. They enter a bizarre dream world where they are pursued by a primitive force that they released via their enjoining spell. The force turns out to be the spirit of the first Slayer who speaks through Tara in their dream world and is confronting each of them with their deepest secrets and fears.
Special Features:
Interactive menu
Scene access
Disc One:
Script for `Fear Itself`
Disc Two:
Audio commentary for episode `The Initiative` by Doug Petrie
Disc Three:
Audio Commentary for episode `Hush` by Joss Whedon
`Hush` episode featurette
`The Sets of Sunnydale` featurette
`Buffy: Inside The Music` featurette
`Introducing Spike` featurette
Buffy trailers
Cast biographies
Disc Four:
Audio commentary for episode `This Year`s Girl` by Doug Petrie
Disc Five:
Audio commentary for episode `Superstar` by Jane Espenson
Script for episode `Who Are You`
Disc Six:
Audio commentary for episode `Primeval` by David Fury and David J. Contner
Audio commentary for episode `Restless` by Joss Whedon
Script for `Restless` episode
`Season 4 Overview` featurette
Stills gallery

Video Tracks:
Widescreen Anamorphic 1.78:1

Audio Tracks:
Dolby Digital Stereo 2.0 English

Subtitle Tracks:
French
English
Dutch

Starring:
Seth Green
Charisma Carpenter
David Boreanaz
Anthony Head
Alyson Hannigan
Nicholas Brendon
Sarah Michelle Gellar

Casting By:
Marcia Shulman

Soundtrack By:
Sean Murray
Walter Murphy
Nerf Herder
Shawn K. Clement
Christophe Beck

Director of Photography:
Michael Gershman

Editor:
Skip Schoolnik
Geoffrey Rowland
Kimberly Ray
Skip MacDonald
Regis Kimble

Costume Designer:
Susanna Puisto
Eileen A. Dunn
Cynthia Bergstrom

Production Designer:
Carey Meyer
Steve Hardie