Buffy The Vampire Slayer: Season 5 Boxset (UK)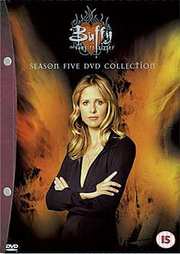 The six disc set
Certificate: 15
Running Time: 990 mins
Retail Price: £79.99
Release Date:
Content Type: TV Series
Synopsis:
Buffy Vs. Dracula: Giles tells Willow that he`s planning to move back to England since he`s feeling less then vital to the work in Sunnydale. Meanwhile on patrol, Buffy runs into a vampire who claims to be Dracula. Dracula turns out to have powers above and beyond the vampire norm such as the ability to turn into a mist and then re-appear, and the ability to turn into a bat.


Real Me: Buffy`s little sister puts forward her view on the slayer and her friends and feels nothing but contempt for all of them apart from Xander. Dawn feels in the way when Buffy complains about having to take her school shopping when she is supposed to be training with Giles.


The Replacement: Are two Xanders really better than one? A demon searching for the Slayer accidentally hits Xander with his weapon, splitting him in two; one with all the positive aspects of his personality, the other with all the negative...


Out Of My Mind: A special government doctor needs to operate on Riley before his body can no longer support his heart rate of 150. Riley, however, is doing everything he can to avoid the medical treatment and it`s up to Buffy to get him to the treatment table in time...


No Place Like Home: Buffy`s mother continues to be sick and the doctors can`t figure out why. Buffy finds a strange orb while on patrol and later the security guard who pointed it out to her shows up in the hospital apparently crazy. Buffy suspects that there`s a supernatural reason behind her mother`s illness and goes into a spell-induced trance provided by Willow which reveals Dawn fading in and out of reality.


Family: Tara`s about to celebrate her 20th birthday. Her family arrives but they`ve come to take her home before she turns into an evil demon just like her mother did at the same age...


Fool For Love: When a vampire impales Buffy with her own stake, she wants to find out how her predecessors have lost in battle. Because of Giles` lack of info on the final battles of previous Slayers she turns to the only person she knows who has killed two: Spike...


Shadow: With a powerful spell, Glory conjures up a big reptile with the vision to seek out and find the Key. Once the snake finds out that Dawn is the key, Buffy must keep it from bringing the news back to Glory...


Listening To Fear: At the hospital, mental patients are being attacked by demon as Buffy`s mother continues to act strangely...


Into The Woods: Unless Buffy can give him a good reason to stay, Riley reveals that he will re-enter the military as the love triangle with Spike becomes ever more deepy entangled...


Triangle: While attempting a new spell to assist Buffy with her slaying, Willow is distracted by her and Anya`s constant bickering and accidentally conjures a troll...


Checkpoint: A team from the Watchers Council show up in Sunnydale with some info on who or what Glory is. Before they allow Buffy the details however, they want her to pass a series of psychological and physical tests...


Blood Ties: Buffy finally tells her friends the truth about Dawn and eventually Willow completes a transportation spell sending Glory away, but even Willow doesn`t know exactly where...


Crush: Buffy notices that Dawn is spending a lot of time around Spike and surmises that she has a crush on him; however Spike tries to make Buffy admit she has feelings for him by offering to stake Drusilla for her...


I Was Made To Love You: Buffy pays a visit to Warren and finds out that he made the girlknown as April to be the perfect girlfriend. April thinks only of Warren and devotes her entire existence to making him happy. The only problem is that Warren doesn`t want her anymore and has been running away from his creation.


The Body: After finding her mother unconscious, a terrified Buffy calls 911. Unfortunately, it`s too late...


Forever: After dealing with the pain of Joyce`s funeral, Buffy falls into the arms of Angel who has come from LA to pay his respects, and he consoles her on the future and about getting her and Dawn`s lives back together. Dawn becomes fixated on using witchcraft to resurrect her mother...


Intervention: Buffy and Giles leave for the desert on a self-discovery/guidance quest led by the First Slayer. While they are gone, Spike decides to have a little fun with his BuffyBot but the gang mistakes it for the real Buffy and think that she has gone crazy...


Tough Love: While Buffy tries to control a motherless Dawn and bring their lives back to some sort of normalcy, Tara is captured by Glory who is desperately trying to find the Key...


Spiral: Buffy rounds up the gang and flees Sunnydale when Glory discovers that Dawn is the Key. They head toward the desert in a motorhome provided by Spike when they are attacked by the Knights of Byzantium...


The Weight Of The World: The Slayer in Buffy is catatonic due to Glory`s abduction of Dawn so Willow psychically enters her mind in order to restore her power...


The Gift: Buffy must square off against a true God when Glory prepares to use Dawn to break down the walls between the dimensions and unleash all Hell on Earth but she needs Dawn`s blood before her home dimension portal can be opened.
Special Features:
Interactive menu
Scene access
Disc One:
Script for episode `The Replacement`
Audio commentary for episode `The Real Me` by writer David Fury and director David Grossman
Disc Two:
Script and audio commentary for episode `Fool For Love` from Doug Petrie
Disc Three:
Script for episode `Into The Woods`
`Buffy Abroad` featurette
`Demonology - A Slayer`s Guide` featurette
`Casting Buffy` featurette
`Action Heroes - The Stunts Of Buffy` featurette
Trailers
Disc Four:
Script for episode `Checkpoint`
Audio commentary for episode `I Was Made To Love You` from writer Jane Espenson
Disc Five:
Audio commentary for epsiode `The Body` from creator Joss Whedon
`The Story Of Season 5` featurette
`Natural Causes` featurette
`Spotlight On Dawn` featurette
Stills gallery

Video Tracks:
Widescreen Anamorphic 1.78:1

Audio Tracks:
Dolby Digital Stereo 2.0 English

Subtitle Tracks:
French
English
Dutch

Starring:
Sarah Michelle Gellar
Nicholas Brendon
Alyson Hannigan
Anthony Head
David Boreanaz
Charisma Carpenter
Seth Green

Casting By:
Marcia Shulman

Soundtrack By:
Christophe Beck
Shawn K. Clement
Nerf Herder
Walter Murphy
Sean Murray

Director of Photography:
Michael Gershman

Editor:
Regis Kimble
Skip MacDonald
Kimberly Ray
Geoffrey Rowland
Skip Schoolnik

Costume Designer:
Cynthia Bergstrom
Eileen A. Dunn
Susanna Puisto

Production Designer:
Steve Hardie
Carey Meyer