Buffy The Vampire Slayer: Season 3 Boxset (UK)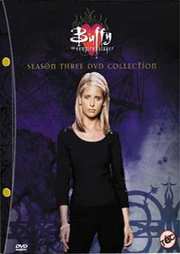 The six disc set
Certificate: 15
Running Time: 990 mins
Retail Price: £79.99
Release Date:
Content Type: TV Series
Synopsis:
All 22 epsodes from Season 3.


Episodes:


Anne: Willow, Xander and Oz are attempting to keep the Sunnydale vampire population in check during Buffy`s absence with only moderate success. As the gang restarts school, Buffy is working as a waitress in L.A. using the name Anne and trying to forget her old life.


Dead Man`s Party: When Buffy returns home she finds that the life she left behind may not be as easy to slip back into as she has to battle not only the rising dead, but also the distrust of her mother and the silent resentment of her friends.


Faith, Hope And Trick: The new Slayer Faith arrives in town and seems like a fun-loving wacky teenager who integrates herself into the gang. While Buffy is getting `Single White Female-d` she notices that Faith is becoming more mysterious and discovers that she has been followed by an ancient vampire who murdered her watcher.


Beauty And The Beasts: When a student is found savagely mauled in the woods the Oz-werewolf is suspected, but when Buffy discovers that Angel is back on Earth after hundreds of years of torture and has been reduced to nothing more than a wild animal, she fears that he may be the killer.


Homecoming: When Cordelia flaunts her sure win for Homecoming Queen it awakens the prom queen within Buffy and they become rivals for the title. Meanwhile the new vampire in town, Mr. Trick, rallies a group of tough vampires, demons and mercenaries together to set up a surprise for the two slayers.


Band Candy: Mr. Trick enlists Giles` old buddy Ethan Rayne to manufacture and distribute boxes of candy which turn the adult population into uninhibited, irresponsible teenagers to keep them out of the way while the mysterious Mayor Wilkins pays a tribute to a demon.


Revelations: Xander finds out about Angel`s return to Sunnydale and promptly informs the gang who confront Buffy with the fear that he may turn evil again, while Faith finds herself under the wing of a new Watcher, Gwendolyn Post, an outwardly prim and proper Englishwoman who was expelled from the Watcher`s Council for practicing evil magic.


Lover`s Walk: Spike returns to Sunnydale a shadow of his bad-ass vampire self and kidnaps Willow so she can put a love spell on Drusilla.


The Wish: Wanting to be rid of Xander for good, Cordelia comes to the conclusion that Buffy is the cause of all her problems and makes a wish that Buffy had never come to Sunnydale. A demon grants the wish and Cordelia`s world suddenly changes for the worse...


Amends: While the gang prepares for their Christmas vacation, Angel is haunted by visions of his violent past. A mysterious force called the First Evil takes the form of Jenny Calendar and tries to convince him to lose his soul in Buffy and become evil again. Believing that he isn`t strong enough to fight the demon within, Angel waits on the top of a hill for the sun to rise...


Gingerbread: Picking the wrong night for mother-daughter bonding, Joyce Summers discovers the bodies of two children apparently sacrificed in an occult ritual and she rallies the adults of Sunnydale convincing them to rid the town of evil which includes Buffy, Willow and Amy!


Helpless: For her upcoming 18th birthday, Buffy declines the Scooby gang`s offer of a big party, hoping to celebrate with quiet reflection and a traditional trip to the ice show with her father. But unbeknownst to Buffy, preparations are being made by the Watcher`s Council for a life-threatening rite of passage that drains the Slayer of her powers and then entraps her with a powerful vampire foe that she must defeat in a defenseless state in order to pass the test.


The Zeppo: When Xander realises that he isn`t needed by the gang as much as he`d like to believe, his quest to prove he`s cool leads him to an unforgettable night that finds him consorting with fast women, raising the dead and rolling with a dangerous crowd that could put Sunnydale in a world of hurt...


Bad Girls: While on a mission to retrieve an amulet before a powerful demon can restore his strength with it, Faith introduces Buffy to her reckless method of slaying which leaves Buffy wanting more of the wild life; all the while Giles is trying to keep his cool in front of stuffy new Watcher Wesley Wyndam-Pryce.


Consequences: Buffy tries to face up to the consequences of her wild actions with Faith but Faith seems to think herself above the law. Buffy confides in Giles about the murder and he oversteps his bounds by not involving the new Watcher, Wesley.


Doppelgangland: While unknowingly participating in a spell with the wish-granting demon Anyanka in order for her to get her powers back, Willow accidentally brings forth the vampire Willow from Cordelia`s alternate universe...


Enemies: Faith`s new alliance with the Mayor goes as far as them conspiring to rob Angel of his soul. Faith tries to seduce him but he is thinking Buffy Summers in a big, one-track way. When the old-fashioned way doesn`t work, the Mayor summons a powerful sorcerer who does the job for them.


Earshot: After a close encounter with a mouthless demon Buffy is infected with the demon`s blood and she gains the ability to hear people`s thoughts. Her new found ability at first is good for cheating on schoolwork, but when the voices continue to flood her mind, she realises that she cannot control the power.


Choices: Buffy`s acceptance to college leaves her with even more doubts about her life outside of Sunnydale with Faith and the Mayor still around. Buffy decides to take the fight to the Mayor and discovers a secret delivery for him, the Box of Gavrok which contains a mystical energy vital to the Ascension.


The Prom: As the all time night-of-nights for the senior students peeks around the halls, Buffy must save her friends and the rest of the school from a scorned student who has trained a pack of hellhounds to attack anyone dressed in formal attire. Meanwhile, Angel reveals his feelings that he and Buffy could never have a normal life together and plans to leave town after the Ascension...


Graduation Day - Part 1: The gang receive some valuable information from old enemy Anya who has actually witnessed an Ascension. She reveals that the Mayor plans to transform himself into pure demon, something that has not been seen for thousands of years...


Graduation Day - Part 2: After their ultimate `Fight-to-the-Death`, Faith escapes from Buffy, albeit in a coma, so Buffy offers her own blood to Angel to rid his body of the poison. When she recovers the gang finally devise a plan to defeat the Mayor, rallying the students and asking for their help in fighting the resulting serpent demon...
Special Features:
Interactive menu
Scene access
Disc One:
Script for episode `Faith, Hope and Trick`
Disc Two:
Script for episode `Band Candy`
Script for episode `Lover`s Walk`
Disc Three:
Script for episode `The Wish`
`Season 3 Overview` featurette
`Buffy Speak` featurette
Stills gallery
Cast biographies
Disc Four:
Audio commentary for episode `Helpless`
Audio commentary for `Bad Girls` episode
Audio commentary for `Consequences` episode
Disc Five:
Audio commentary for `Earshot` episode
Disc Six:
`Special Effects` featurette
`Weapons` featurette
`Wardrobe` featurette

Video Tracks:
Standard 1.33:1

Audio Tracks:
Dolby Digital Stereo 2.0 English

Subtitle Tracks:
French
English
Dutch

Starring:
Sarah Michelle Gellar
Nicholas Brendon
Alyson Hannigan
Anthony Head
David Boreanaz
Charisma Carpenter
Seth Green

Casting By:
Marcia Shulman

Soundtrack By:
Christophe Beck
Shawn K. Clement
Nerf Herder
Walter Murphy
Sean Murray

Director of Photography:
Michael Gershman

Editor:
Regis Kimble
Skip MacDonald
Kimberly Ray
Geoffrey Rowland
Skip Schoolnik

Costume Designer:
Cynthia Bergstrom
Eileen A. Dunn
Susanna Puisto

Production Designer:
Steve Hardie
Carey Meyer