Linda Green: Complete Series 1 (UK)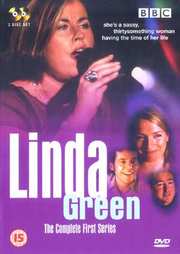 "I`m not a slapper, I just go off people very quickly"
Certificate: 15
Running Time: 285 mins
Retail Price: £19.99
Release Date:
Content Type: TV Series
Synopsis:
Meet Linda... a blue-collar Bridget without the neurosis and the perfect antithesis to Ally McBeal. Linda (Liza Tarbuck, The Big Breakfast) is a thirty-something good-time girl from Manchester whose search for Mr Right has so far unconvered Mr Tonight.

This release features all ten episodes from the first series of Linda Green.

Episode 1 - When her current boyfriend Neil dumps her, Linda lands herself in double trouble by seeking solace in the arms of his identical twin brother, Tom...

Episode 2 - When her old friend Pete splits up with his girlfriend, Linda takes him under her wing.

Episode 3 - Lindas worried shes losing her touch with men. To make matters worse, her best friend Michelle is beating them off with sticks.

Episode 4 - After another disasterous shag with a man her own age, Linda figures that if she can`t teach an old dog new tricks, it might be time to find a puppy to train.

Episode 5 - When Linda discovers that she`s the only woman at work not been harrassed by the boss, she`s livid. There`s a promotion going and she wants it.

Episode 6 - After reading in the paper about the death of Debbie Mott, a woman who would have been in the same year as Linda at school, everyone racks their brains trying to remember who she was.

Episode 7 - After a night out Linda returns home to discover she`s been burgled.

Episode 8 - When Linda takes a fancy to Carl - a really fit guys who jogs past her house every day - she dons a tracksuit and does aerobics in her front garden to attract his attention.

Episode 9 - When Linda meets her Uncle Vic for the first time, she is struck by the uncanny resemblance between them.

Episode 10 - When Michelle and Darren announce that they hvae anew baby on the way, Linda maintains that she doesn`t have a maternal bone in her body; has she got it wrong?
Special Features:
Linda`s World

Video Tracks:
Widescreen Anamorphic 1.78:1

Audio Tracks:
Dolby Digital Stereo 2.0 English

Subtitle Tracks:
CC: English

Directed By:
Sydney Macartney

Written By:
Paul Abbott

Starring:
Daniel Ryan
Sean Gallagher
Claire Rushbrook
Christopher Eccleston
Liza Tarbuck

Casting By:
Andy Pryor

Soundtrack By:
Guy Pratt

Director of Photography:
Ernest Vincze

Editor:
William Webb

Costume Designer:
Emma Rosenthal

Production Designer:
John Collins

Producer:
Nicola Shindler
Matthew Bird

Distributor:
BBC