Intersection (UK)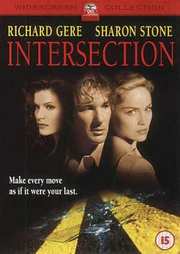 Live every move as if it were your last
Certificate: 15
Running Time: 94 mins
Retail Price: £19.99
Release Date:
Content Type: Movie
Synopsis:
Vincent Eastman is about to find himself on a collision course with the most important decision he`ll ever make in his life. But life is about to make it for him...
He`s a successful architect who must choose between continuing with his lovely and talented wife, Sally, or starting over with his equally gorgeous and talented lover Olivia. It is not only his future happiness that lies in the balance, but that his dear thirteen year old daughter, Meaghan, with whom he finds he has developed a very deep and meaningful relationship.

Somehow, he knows he must decide... but at the very moment of Vincent`s decision, fate is about to step in and deal the sort of unexpected blow that can leave deeply ironic and devastating consequences for us all...
Special Features:


Video Tracks:
Widescreen Anamorphic 1.78:1

Audio Tracks:
Dolby Digital 5.1 English
Dolby Digital Stereo 2.0 German

Subtitle Tracks:
Polish
Czech
Swedish
Finnish
Turkish
English
German
CC: English
Hungarian
Dutch
Arabic
Danish
Norwegian

Directed By:
Mark Rydell

Written By:
Marshall Brickman
Claude Sautet
Paul Guimard
David Rayfiel
Jean-Loup Dabadie

Starring:
Jennifer Morrison
Martin Landau
Sharon Stone
David Selby
Lolita Davidovich
Richard Gere

Casting By:
Lynn Stalmaster

Soundtrack By:
James Newton Howard

Director of Photography:
Vilmos Zsigmond

Editor:
Mark Warner

Costume Designer:
Ellen Mirojnick

Production Designer:
Harold Michelson

Producer:
Mark Rydell
Bud Yorkin
Raymond Hartwick
Alan B. Curtiss

Executive Producer:
Frederic Golchan

Distributor:
Paramount Pictures