Groundhog Day (UK)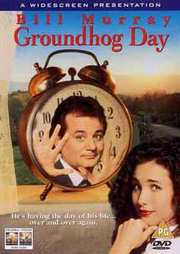 He`s having the worst day of his life... over, and over...
Certificate: PG
Running Time: 97 mins
Retail Price: £19.99
Release Date:
Content Type: Movie
Synopsis:
Bill Murray is at his wisecracking best in this riotous romantic comedy about a weatherman caught in a personal time warp on the worst day of his life!

Teamed with a relentlessly cheery producer (Annie MacDowell) and a smart aleck cameraman, TV weatherman Phil Connors (Bill Murray) is sent to Punxsutawney, Pennsylvania to cover the annual Groundhog Day festivities. On his way out of town, Phil is caught in a giant blizzard - which he himself actually failed to predict - and finds himself stuck in a small town hell.

Just when things couldn`t get worse... they do! Phil wakes the next morning to find that it`s Groundhog Day all over again... and again... and again. During the recurring 24 hour nightmare, Phil starts to realise that he can also use it to his advantage - to re-write the events of his day, and to generally have a whale of a time.

But manipulating his day to capture the one woman he really wants is not quite so easy! A truly comic time warp that everyone will enjoy being stuck in!!
Special Features:
Interactive Menus
Scene Access
Threatrical Trailer
Filmographies

Video Tracks:
Widescreen Anamorphic 1.85:1

Audio Tracks:
Dolby Digital Surround 2.0 English

Subtitle Tracks:
French
Hebrew
Icelandic
Polish
Czech
Italian
Hindi
Swedish
Finnish
Turkish
English
Spanish
German
Portuguese
Greek
Hungarian
Dutch
Danish
Norwegian

Directed By:
Harold Ramis

Written By:
Harold Ramis
Danny Rubin

Starring:
Chris Elliott
Andie MacDowell
Bill Murray

Casting By:
Howard Feuer

Soundtrack By:
George Fenton

Music From:
Frankie Yankovic
Sergei Rachmaninov
Wolfgang Amadeus Mozart

Director of Photography:
John Bailey

Editor:
Pembroke J. Herring

Costume Designer:
Jennifer Butler

Production Designer:
David Nichols

Producer:
Whitney White
Harold Ramis
Trevor Albert

Executive Producer:
C.O. Erickson

Distributor:
Columbia / Tristar