About Last Night (UK)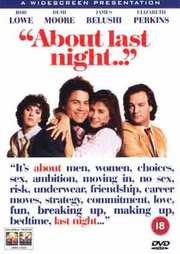 It`s about men, women, choices, friendship, love, last night...
Certificate: 18
Running Time: 109 mins
Retail Price: £19.99
Release Date:
Content Type: Movie
Synopsis:
Rob Lowe doesn`t want to get serious. Demi Moore doesn`t want to get used. Together, they`re an unforgettable couple in the sexy comedy, `About Last Night`...

After drinks at a favourite Chicago hang-out, Danny Martin (Lowe) and Debbie Sullivan (Moore) head to Danny`s place to indulge in the predictable single`s quest -the one-night stand. Their affair is casual, sensual, and supposedly over until something surprising happens. They want to see each other again.

It`s the start of an intense relationship that irritates Danny`s rowdy best friend (James Belushi) and astounds Debbie`s cynical buddy/roomie (Elizabeth Perkins), who do everything possible to break them up.

But, Danny and Debbie wind up living together, and amidst the daily drudge of domestic life, they begin to realise that making love is easy, saying "I love you" more difficult, and being in love the hardest of all.

Based on David Mamet`s Obie Award-winning play, `Sexual Perversity in Chicago`, `About Last Night...` is an insightful, provocative and often funny look at romance in the `80s.
Special Features:
Filmographies
Theatrical trailer

Video Tracks:
Widescreen Anamorphic 1.85:1

Audio Tracks:
Dolby Digital Surround 2.0 English
Dolby Digital Surround 2.0 Spanish
Dolby Digital Mono German
Dolby Digital Surround 2.0 Italian
Dolby Digital Mono French

Subtitle Tracks:
French
Hebrew
Icelandic
Polish
Czech
Italian
Hindi
Swedish
Finnish
Turkish
English
Spanish
German
Portuguese
Greek
Hungarian
Dutch
Arabic
Danish
Norwegian

Directed By:
Edward Zwick

Written By:
David Mamet
Tim Kazurinsky
Denise DeClue

Starring:
Michael Alldredge
George DiCenzo
Elizabeth Perkins
James Belushi
Demi Moore
Rob Lowe

Soundtrack By:
Miles Goodman

Director of Photography:
Andrew Dintenfass

Editor:
Harry Keramidas

Costume Designer:
Deborah Lynn Scott

Production Designer:
Ida Random

Producer:
Stuart Oken
E. Darrell Hallenbeck
Jason Brett

Executive Producer:
Arnold Stiefel

Distributor:
Columbia / Tristar