Superman / Superman II box set (UK)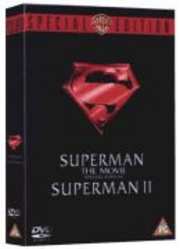 You`ll believe a man can fly!
Certificate: PG
Running Time: 246 mins
Retail Price: £29.99
Release Date:
Content Type: Movie
Synopsis:
Superman - The Movie
A box office smash, an Academy Award winner and a beloved fan favourite for more than a generation, Superman: The Movie now soars even higher in a state-of-the-art digital transfer from restored elements and with dynamically remixed digital audio. There`s more: the epic adventure now includes eight minutes integrated into the film by director Richard Donner.
Among the highlights: added footage of the Krypton Council, a glimpse of veterans from previous Superman screen incarnations, a meeting with Jor-El that underscores the Man of Steel`s purpose on Earth and an extended sequence inside Lex Luthor`s gauntlet of doom. Christopher Reeve, unknown when cast, is flawless as the title hero and fumbling alter-ego Clark Kent. And Marlon Brando (Jor-El), Gene Hackman (Luthor) and Margot Kidder (Lois Lane) offer indelible performances that fuel the film`s aura of legend.

Superman 2
In this flashy sequel 3 outlaws from Krypton descend to Earth to confront the Man of Steel in a cosmic battle for world supremacy.

General Zod (Terrance Stamp), Ursa (Sarah Douglas) and Non (Jack O`Halloran) are released from the Phantom Zone by a nuclear explosion in space. They descend upon Earth where they could finally rule. Superman (Christopher Reeve), meanwhile, is in love with Lois Lane (Margot Kidder), who finds out who he really is. Lex Luthor (Gene Hackman) escapes from prison and is determined to destroy Superman by joining forces with the 3 criminals.
Special Features:
Interactive Menus
Scene Access
Audio commentary by director Richard Donner & creative consultant Tom Mankiewicz
10 Added Scenes
3 Special Effects Documentaries
`The Magic Behind The Cape`
Making Superman: Filming the Legend
Taking Flight: The Development of Superman
Screen Tests, with a commentary by the casting director
TV spot
Trailers
Storyboard to Screen (DVD ROM only)

Video Tracks:
Widescreen Anamorphic 2.35:1

Audio Tracks:
Dolby Digital 5.1 English
Dolby Digital Stereo 2.0 English

Directed By:
Richard Donner

Written By:
Tom Mankiewicz
Robert Benton
Leslie Newman
David Newman
Mario Puzo
Joe Shuster
Jerry Siegel

Starring:
Margot Kidder
Jackie Cooper
Ned Beatty
Christopher Reeve
Gene Hackman
Marlon Brando

Casting By:
Lynn Stalmaster

Soundtrack By:
John Williams

Director of Photography:
Geoffrey Unsworth

Editor:
Michael Ellis
Stuart Baird

Costume Designer:
Yvonne Blake
Jerry R. Allen

Production Designer:
John Barry (II)

Producer:
Pierre Spengler
Alexander Salkind
Richard Lester
Charles F. Greenlaw

Executive Producer:
Ilya Salkind

Distributor:
Warner Bros