An Inspector Calls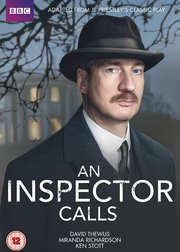 Certificate: 12
Running Time:
Retail Price: £10.99
Release Date: 21/09/2015
Content Type: TV Series
Synopsis:
An emotionally powerful and sharply relevant adaptation of JB Priestley's timeless masterpiece.

An Inspector Calls is both an enthralling mystery and a scathing critique of a hypocritical, class-obsessed society. Set in 1912, it vividly evokes a thriving industrial age built on crippling social inequality. Taking place over the course of a single night, this taut, affecting and ultimately tragic story centres on the prosperous Birling family. They receive a surprise visit from Inspector Goole (David Thewlis) who is investigating the suicide of a young girl, a former factory worker of Mr Birling's. Interrogating each family member in turn, Goole's incisive questioning reveals that each one not only had a connection to the girl but also may have played a significant part in her demise. As the family's callous actions are brought to light, so are dark and shameful secrets that threaten to tear the Birling household apart and destroy its reputation.

David Thewlis (Harry Potter, War Horse) stars as The Inspector, Ken Stott (The Hobbit, Rebus) stars as Arthur Birling and Miranda Richardson (Mapp & Lucia, Parades End) stars as his wife Sybil Birling. Also starring Chloe Pirrie (The Game, Black Mirror), Kyle Soller (Poldark, Anna Karenina), Sophie Rundle (Happy Valley, Peaky Blinders) and Finn Cole (Peaky Blinders).
Special Features:
An Inspector Calls- An Introduction
The Enduring Power of An Inspector Calls

Related Websites:
http://www.bbcshop.com/crime+thriller/an-inspector-calls-dvd/invt/bbcdvd4057

Starring:
David Thewlis
Ken Stott
Miranda Richardson
Chloe Pirrie
Kyle Soller
Sophie Rundle
Finn Cole

Distributor:
BBC Worldwide