Maelstrom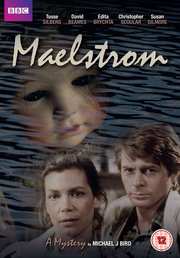 Certificate: 15
Running Time: 300 mins
Retail Price: £22.99
Release Date: 14/09/2015
Content Type: Movie
Synopsis:
Catherine Durrell (Tusse Silberg) is made redundant, but a surprise is in store when she learns that by the inexplicable whim of a drowned man she has been left a fortune in Norway. Who was this man and why was she chosen as beneficiary? To find the answer, Catherine travels to Ålesund, the beautiful capital of the Sunnmøre region.

Here, against a background of contemporary Norwegian life but paralleled by myth and legend, Catherine becomes deeply involved in the affairs of the Jordahl family and, more and more, her parentage is called into question as she probes the mysterious life and background of Hjalmar Jordahl. She embarks on a passionate, stormy and potentially tragic, relationship, which places her life in even greater danger.

Catherine pursues her investigations until, finally, on Midsummer's Eve and with the pagan Nordic celebrations at their height, the last piece of the jigsaw falls into place and she comes face to face with her own would-be killer. And the maelstrom into which she has been inexorably drawn threatens to engulf her...

A forerunner to British televisions fascination with Nordic based dramas, and Michael J. Bird's (Who Pays The Ferryman, The Dark Side of the Sun) final TV series for the BBC, Eureka Entertainment is proud to present Maelstrom for the first time on DVD in the UK.
Special Features:


Video Tracks:
1.37:1 Colour

Audio Tracks:
English mono

Subtitle Tracks:
English Optional

Directed By:
David Maloney

Written By:
Michael J. Bird

Starring:
Tusse Silberg
David Beames
Edita Brychta
Christopher Scoular

Director of Photography:
Alex Scott

Editor:
Robin Chalmers
Alan Dixon
John MacDonnell
John Morrans

Costume Designer:
David Beeton

Production Designer:
Bob Smart

Visual Effects:
Mike Kelt

Producer:
Vere Lorrimer

Distributor:
Eureka