An Englishman's Castle - The Complete Mini-Series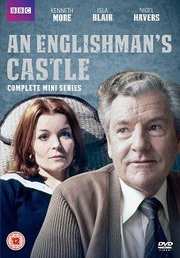 What if Germany had won the war…
Certificate: 12
Running Time: 144 Mins
Retail Price: £19.99
Release Date: 08/10/2015
Content Type: Movie
Synopsis:
An Englishman's home may well be his castle, but it would be a very different castle indeed if Germany had won WWII.

Set in an alternate 1970s on an Earth where Germany won the Second World War and is now occupying England, Peter Ingram (Kenneth More) is the lead writer of a popular soap opera set in Blitz-era London.

Ingram's life sees little adventure. He knowingly turns a blind eye to the realities of local Nazi rule, opting for the easy life.

After the inclusion of a Jewish character in his television series is met with strong objection, his eyes finally begin to open. And when the woman he loves (Isla Blair) reveals that she was born a Jew, he has a difficult decision to make.

Will Peter join his lover in the Underground resistance or continue to lodge his head firmly in the sand?

Also starring Kathleen Byron (Saving Private Ryan, The Elephant Man) and Nigel Havers (A Passage to India) and directed by Paul Ciappessoni (Angels, Softly Softly, Doomwatch, Doctor Finlay's Casebook).
Special Features:


Video Tracks:
1.33:3 Colour

Audio Tracks:
English Mono

Directed By:
Paul Ciappessoni

Written By:
Philip Mackie

Starring:
Kenneth More
Isla Blair
Nigel Havers
Kathleen Byron

Soundtrack By:
Ennio Morricone

Director of Photography:
Alec Curtis
Hubert Cartwright

Editor:
Malcolm Banthorpe
Bill Shapter

Costume Designer:
Christine Rawlins

Production Designer:
David Spode

Producer:
Innes Lloyd

Distributor:
Simply Media