Q - The (almost) Complete Series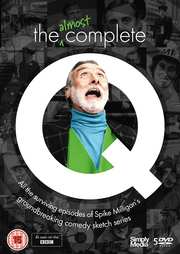 Certificate: 15
Running Time: 815 mins
Retail Price: £29.99
Release Date: 30/11/2017
Content Type: TV Series
Synopsis:
Simply Media are delighted to announce release of Q: The Almost Complete Collection on DVD 20th November 2017, containing all surviving episodes from Qs 5-9 in this 5-disc set, on DVD together for the very first time.

Originally shown by the BBC from 1969-1980, this BAFTA-nominated series is considered a landmark in British Comedy. The fast-paced, anarchic sketch comedy will delight fans of the series and Spike Milligan's work.

Written by and starring BAFTA-winner Spike Milligan in a variety of silly outfits and outlandish situations involving idiot Boy Scouts, Adolf Hitler, and the Royal Family. The original Q5 of 1969 was heralded as the inspiration behind Monty Python's Flying Circus, which debuted a few months later.

It's also one of the best showcases of Spike's surreal and eccentric humour. Sketches come in thick and fast, and jump from one plot point or location to another with no explanation, and sometimes no apparent conclusion. Bizarre, yes. Funny, most definitely!

"Terry Jones and I adored the Q... shows", recalled Michael Palin for Spike's biography, "[Milligan] was the first writer to play with the conventions of television."

The BBC initially delayed re-commissioning the ground-breaking Q series until the Monty Python series ended, despite the impact Q had already had on the world of alternative comedy, and at a time when Kenny Everett and Not the Nine O'clock News were further testing the limits of TV Comedy. However, the popular Q returned over 6 years later for four further series.

It is clear to see Monty Python in Spike's work, with Life of Brian's Chris Langham on the writing team and Monty Python's Flying Circus director Ian MacNaughton directing some episodes. For Q8 and Q9, direction was taken over by the talented BAFTA-winning Ray Butt (Only Fools and Horses).

Spike leads a fantastic cast of co-performers including John Bluthal (The Vicar of Dibley), Bob Todd (Superman III), John D. Collins ('Allo 'Allo), Peter Jones (The Rag Trade), and Margaret Nolan (Goldfinger), Alan Clare (Rising Damp) and a self-parodying David Lodge in yet more surreal, outrageous and determinedly under-prepared sketches and musical interludes.
Special Features:


Video Tracks:
Colour 4:3 Fullscreen

Audio Tracks:
English mono

Directed By:
Ian MacNaughton

Written By:
Spike Milligan
Neil Shand

Starring:
Spike Milligan
John Bluthal
John D. Collins
Peter Jones
Margaret Nolan
Richard Ingrams
John Wells

Music From:
Spike Milligan

Costume Designer:
Judy Pepperdine

Visual Effects:
Tony Oxley

Distributor:
Simply Media Entertainment