Review for Ealing Rarities Collection (The): Volume 1
I was steeling myself for potential disappointment with this package of four lesser known Ealing films. After all, the studio made over 150 films over 30 years and despite being a huge fan of the classic comedies, I would be hard pushed to name more than a dozen.

But I had no need to worry. Three of the four films here are absolute gems. Indeed, one of the four ('Penny Paradise') could sit comfortably among the classic comedy canon.

The transfers here are marvelous too, far better than we could deserve to expect for such ancient rarities ('Escape' is now 83 years old for goodness sake and still seems as fresh as a daisy).


ESCAPE! (1930)


Though a little dated (hardly surprisingly) in terms of dialogue and pace, this wonderfully directed piece feels surprisingly contemporary. Although much is studio based there are also some terrific exteriors of both London (it looks surprisingly unchanged since then despite the best efforts of the Blitz ten years later) and parts of Britain's countryside (supposedly the moors around Dartmoor Prison).
A gentleman takes an walk in Hyde Park (which is positively teeming with people even at 9pm) and is approached by a lady asking for a light. She is clearly a prostitute yet he shows her kindness and when she is arrested for approaching him he objects, punching the policeman who then falls, bangs his head and dies. As a result the man is sentenced to five years in prison for manslaughter.
Unable to stand the abuse from prison guards and his loss of freedom he makes a run for it. Sleeping rough on the moors and relying on the kindness of strangers, it is not so much a matter of if he will get caught, but when.
The story seems remarkably fresh and the film highly watchable despite its age. In fact, from a historic perspective it's absolutely fascinating, providing as it does a slice of British life from yesteryear. A treasure indeed!
The film is short by today's standards at just under 70 minutes and, interestingly, is presented in its original aspect ratio of 1.19:1 which is almost entirely square. (1.33:1 didn't become standard till a few years later). It's in fine fettle too with a decent transfer.
WEST OF ZANZIBAR (1954)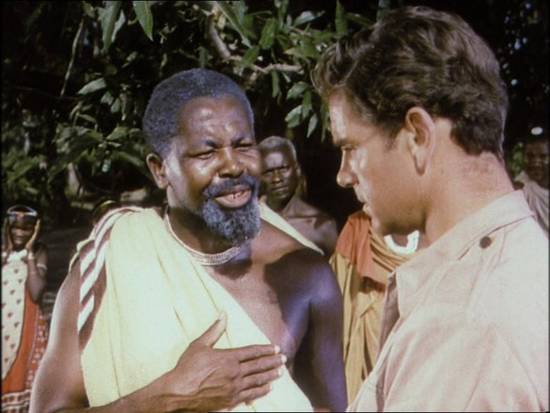 Seeming almost documentary-like, 'West of Zanzibar' is a thoroughly enjoyable slice of African adventure. Despite the sniff of imperialistic superiority in the air, it seems that Game Warden Bob Payton and his sparky wife have their hearts in the right place when they try and persuade a local tribe to move to an area where the soil is fertile rather than to the temptations of the local city – Mombasa. However, before long the tribe's young men want cash for fashionable clothing and drink and start taking part in illegal hunting of elephants for ivory.
Determined to stamp out this evil past-time at the roots, and therefore save the tribe, Payton goes to Zanzibar in search of the ring-leaders.
Filmed on location in Kenya, the film exudes authenticity of sorts and also provides plenty of thrills making it a really good watch – despite it seeming as far away from 'Ealing' as one could imagine.
Filmed in 1.33:1, this is the only colour film in the set and looks positively vibrant, perhaps as a result. Running in at 92 minutes it's also a little longer than the other three movies.
PENNY PARADISE (1938)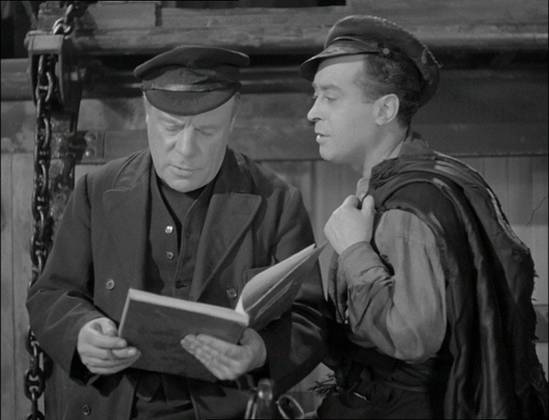 Preceding the classic Ealing comedies by well over a decade this must surely be the film that provided the template for the gentle British humour that became the identifying feature of a classic 'Ealing Comedy'.
It's a charming and quirky tale full of fun characters and amusing scenarios featuring as it does the normal folk of Liverpool.
Liverpool tugboat captain Joe spends a weekly sixpence on the pools. He can hardly believe his luck when all the numbers come up. Soon the celebrations start and it's not long before the very fabric of his relationships and community star to unravel. Just as well that his first mate forgot to post the winning ticket in then!
An absolute delight from start to finish, hopefully this 'rarity' will get its deserved place alongside some of the better known comedies. It's every bit as good as many.
Running in at just 70 minutes it's an economical little film that I feel sure will bear repeated viewings and I would suggest that it's worth buying the set for this gem alone.
CHEER UP! (1936)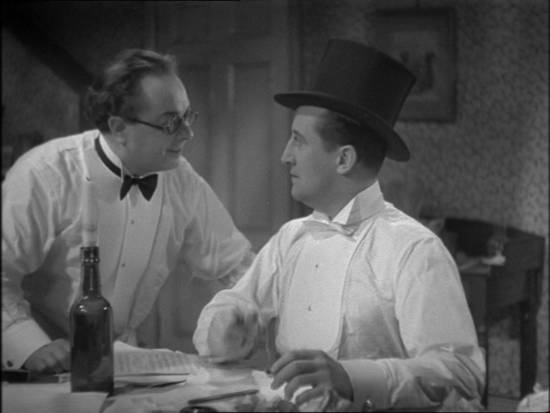 The last of the four films is something of a let-down. Well, three out of four isn't bad. The comedy here is formulaic and dated, as are the songs and dance routines, in this depression rags to riches tale of two struggling composer/play writers trying to get their show ('Cheer Up!') off the ground.
Despite lots of verbal and physical gooning (ala Arthur Askey type stuff) the film's only redeeming feature is the presence of on-screen beauty Sally Gray who is utterly mesmerizing.  Thankfully it is a slight 68 minutes and is utterly forgettable.
SPECIAL FEATURES

There's an original Theatrical Trailer for 'West of Zanzibar' which majors on the latter quarter of the film, suggesting that it's more of a big game action film than it really is. There's also an image gallery and some promotional material (as PDF) for 'West of Zanzibar'.
Overall this is a fantastic start to the release of these Ealing Rarities sets. (Sets two and three can be pre-ordered now and will follow hot on the heels of set one). At under £10 retail it's a tremendous value offer and no self-respecting fan of classic British cinema would want to be without it. Fantastic stuff!