Crows Zero II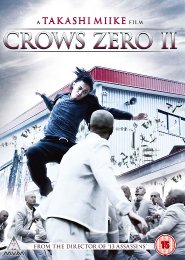 From the director of Thirteen Assassins
Certificate: 15
Running Time: 133 mins
Retail Price: £15.99
Release Date: 2012
Content Type: Movie
Synopsis:
Miike Takashi hit box office gold in 2007 with the high school brawler Crows Zero based on Takahashi Hiroshi's best-selling manga. Picking up the story right after the first film, the highly anticipated blockbuster sequel Crows Zero II throws audiences right back into the hyper-stylized world of high school gang violence.

Oguri Shun returns as Takaya Genji, whom we last saw fighting his way up the pecking order of gang-infested Suzuran High in hopes of uniting the school under his rule. His chief rival in the first film, Yamada Takayuki, is back, as well as Takaoka Sosuke, Kiritani Kenta, Daito Shunsuke, Yabe Kyosuke, Kamiji Yusuke, Flame's Izaki Yusuke and Izaki Hisato, and sometimes flame Kuroki Meisa. Some new delinquents have been added to the fighting fray including Miura Haruma (Gokusen), Abe Shinnosuke (The Sword of Alexander), and Kaneko Nobuaki (Be-Bop High School).

Genji (Oguri Shun) is the new king of Suzuran High after beating Serizawa (Yamada Takayuki), but the school is more fragmented than ever. Suzuran's old rivalry with Hosen Academy flares up again when a former Suzuran student (Abe Shinnosuke) who knifed a Hosen student to death two years ago is released from jail. Hosen's leader Taiga (Kaneko Nobuaki) sends out the boys to get revenge, and Genji unknowingly throws the first punch, breaking the tenuous ceasefire between the two schools. It's all-out gang war all over again, but Genji's fighting on two fronts trying to unite a divided Suzuran against Hosen.
Special Features:
Trailer

Video Tracks:
2.35:1 anamorphic widescreen

Audio Tracks:
Dolby Digital 2.0 Stereo Japanese

Subtitle Tracks:
English

Directed By:
Takashi Miike

Written By:
Hiroshi Takahashi
Shôgo Mutô

Starring:
Shun Oguri
Kyôsuke Yabe
Meisa Kuroki
Takayuki Yamada
Ken'ichi Endô
Gorô Kishitani
Nobuaki Kaneko
Shinnosuke Abe
Gô Ayano

Music From:
Naoki Otsubo

Director of Photography:
Nobuyasu Kita

Editor:
Shûichi Kakesu
Tomoki Nagasaka

Costume Designer:
Kazuhiro Sawataishi

Producer:
Mataichirô Yamamoto

Distributor:
MVM