Crows Zero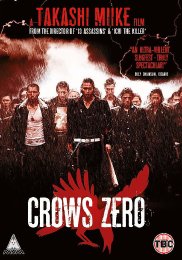 There's no such thing as a fair fight
Certificate: 15
Running Time: 130 mins
Retail Price: £15.99
Release Date: 2012
Content Type: Movie
Synopsis:
Prolific maverick director Miike Takashi certainly kept the masses happy in 2007 with the release of three high-profile ready-made cult films. Sukiyaki Western Django and Like a Dragon both had enough Miike magic to spare, but it's Crows Zero (a.k.a. Crows - Episode 0) that comes out on top of the heap as the auteur's most commercially successful film to date. Thanks to his extreme themes and even more extreme presentation, Miike alienates as much as he attracts, but he's got a legitimate box office hit on his hands with Crows Zero. Based on Takahashi Hiroshi's bestselling manga Crows, Crows Zero takes Miike to familiar territory - high school gang violence - and he cuts through the subject matter at high-octane speed for a stylized, action-packed, and entertaining schoolyard brawl of a movie.

Delving into the hyper-stylized world of feuding high school gangs, Crows Zero actually takes place before the events of the manga (hence the title), setting up the origins and rivalries of the iconic characters. Other than the avid fanbase that already exists for the manga, Crows Zero gets some extra box office pull with the casting of heartthrobs Oguri Shun (Kisaragi) and Yamada Takayuki (Train Man) as the lead delinquents. Oguri, who also featured in Miike's Sukiyaki Western Django, continues to impress as one of Japanese cinema's most talented young stars, while Yamada Takayuki leaves behind the sensitive romantic lead image he's cultivated from numerous tearjerkers for a hard-hitting bout in the ring. Rounding out the film's problem teenager cast are Yabe Kyousuke (Dead or Alive, Kids Return), Kuroki Meisa (Under the Same Moon), and Izaki Yusuke and Izaki Hisato from boy band Flame.

Takaya Genji (Oguri Shun) just transferred to Suzuran, a high school notorious for its gang violence. At Suzuran High, hallways are battle zones, bloody brawls are everyday occurrences, and student life is dominated by the political winds of the school's many factions. Genji didn't end up here by accident though. He's here to do what even his yakuza father (Kishitani Goro) couldn't accomplish years before - rule the school. Already stirring up a storm on the first day, Genji is determined to fight his way up the pecking order and unite the gangs. But not if alpha crow Serizawa Tamao (Yamada Takayuki) has anything to say about it.
Special Features:


Video Tracks:
1.85:1 anamorphic widescreen

Audio Tracks:
Dolby Digital 2.0 Stereo Japanese

Subtitle Tracks:
English

Directed By:
Takashi Miike

Written By:
Hiroshi Takahashi
Shôgo Mutô

Starring:
Shun Oguri
Kyôsuke Yabe
Meisa Kuroki
Takayuki Yamada
Sansei Shiomi
Ken'ichi Endô
Gorô Kishitani

Music From:
Naoki Otsubo

Director of Photography:
Takumi Furuya

Editor:
Shûichi Kakesu
Tomoki Nagasaka

Production Designer:
Yuji Hayashida

Producer:
Mataichirô Yamamoto

Distributor:
MVM