The Complete Fritz Lang Mabuse Boxset: The Masters of Cinema Series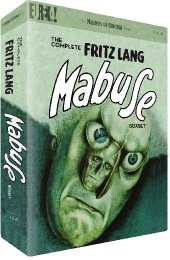 Certificate: 12
Running Time: 485
Retail Price: £49.99
Release Date: 19/10/2009
Content Type: Movie
Synopsis:
From the early stages of his career across five decades to his final film, Fritz Lang built a trilogy of paranoiac thrillers focused on an entity who began as a criminal mastermind, and progressed into something more amorphous: fear itself, embodied only by a name — Dr. Mabuse. For the first time on home video, all three of Fritz Lang's Mabuse films have been collected for one package, in their complete and restored forms.
1: Dr. Mabuse, der Spieler. [Dr. Mabuse, the Gambler.] (1922) —Lang's two-part, nearly 5-hour silent epic detailing the rise and fall of Dr. Mabuse in Weimar-era Berlin.
2: Das Testament des Dr. Mabuse [The Testament of Dr. Mabuse] (1933) — a tour-de-force thriller rife with supernatural elements, all converging around an attempt by the now- institutionalised Mabuse (or someone acting under his name... and possibly his will) to organise an "Empire of Crime".
3: Die 1000 Augen des Dr. Mabuse [The 1000 Eyes of Dr. Mabuse] (1960) — Fritz Lang's final film, in which hypnosis, clairvoyance, surveillance, and machine-guns come together for a whiplash climax that answers the question: Who's channelling Mabuse's methods in the Cold War era?

The Masters of Cinema Series is proud to present Fritz Lang's complete Mabuse trilogy — a cornerstone in the work of one of cinema's all-time greatest directors.
Special Features:
• Newly recorded feature-length audio commentaries on all three movies by film-scholar and Fritz Lang expert David Kalat
• Three video featurettes
• 2002 video interview with Wolfgang Preiss
• An alternate ending to Die 1000 Augen des Dr. Mabuse taken from the French print of the film.
• Optional English language dub track for Die 1000 Augen des Dr. Mabuse.
• Newly translated English-language subtitles for each film
• Three lengthy booklets

Video Tracks:
Dr. Mabuse, der Spieler - 1.37:1
Das Testament der Dr. Mabuse - 1.19:1
Die 1000 Augen der Dr. Mabuse - 1.66:1

Audio Tracks:
Dr. Mabuse, der Spieler - Dolby Digital Mono Music Only
Das Testament der Dr. Mabuse - Dolby Digital Mono German
Die 1000 Augen der Dr. Mabuse - Dolby Digital Mono German and English

Subtitle Tracks:
English

Directed By:
Fritz Lang

Written By:
Fritz Lang
Norbert Jacques
Thea von Harbou
Jan Fethke
Heinz Oskar Wuttig

Starring:
Rudolf Klein-Rogge
Aud Egede-Nissen
Gertrude Welcker
Alfred Abel
Bernhard Goetzke
Otto Wernicke
Oscar Beregi Sr.
Dawn Addams
Peter van Eyck
Gert Fröbe

Soundtrack By:
Aljoscha Zimmermann
Hans Erdmann
Bert Grund

Director of Photography:
Carl Hoffman
Karl Vash
Fritz Arno Wagner
Karl Löb

Editor:
Conrad von Molo
Lothar Wolff
Walter Wischniewsky
Waltraut Wischniewsky

Producer:
Erich Pommer
Fritz Lang
Seymour Nebenzal
Artur Brauner

Distributor:
Eureka Video
The Masters of Cinema Series