X: Volume 1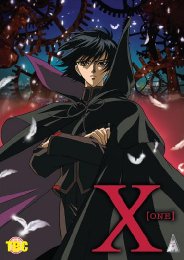 Two sides. Two choices. One future.
Certificate: 15
Running Time: 117 mins
Retail Price: £15.99
Release Date: 2009
Content Type: TV Series
Synopsis:
The End of Days is approaching and soon a momentous battle will begin - one that will decide the fate of the earth and of all humanity.

Two mystical factions are preparing to engage in this final conflict. On one side are the Dragons of Heaven, whose intention is to save mankind from extinction. On the other are the Dragons of Earth, who believe that the only way to save the planet is by destroying mankind and bringing about the earth's purification. According to the seer, Hinoto, one man holds the power to sway the battle and shape the future. That man is Kamui Shiro who, after training with six other young people to prepare for the battle, has returned to Tokyo after several years' disappearance. The prophecies claim that when Kamui reappears, another will rise to challenge him.

But Kamui is reluctant to become a part of either side. It is only when his two childhood friends, Fuma and Kotori Monou, become caught up in the power struggle that Kamui is forced to take a stand and assume his fated position in the war to end all wars.
Special Features:
Episode "An Omen" Trailer
Trailers

Video Tracks:
4:3 regular

Audio Tracks:
Dolby Digital 5.1 Surround English
Dolby Digital 2.0 Stereo Japanese

Subtitle Tracks:
English

Directed By:
Yoshiaki Kawajiri

Written By:
Hiroko Tokita
Kazuyuki Fudeyasu
Kenji Sugihara
Yoshiaki Kawajiri
CLAMP
Yuki Enatsu

Starring:
Junichi Suwabe
Kenichi Suzumura
Houko Kuwashima
Kumi Sakuma
Mamiko Noto
Masaki Aizawa
Mitsuaki Madono
Otoya Kawano
Ryoka Yuzuki
Tomokazu Sugita
Toshiyuki Morikawa
Yoko Soumi
Yuji Ueda
Akiko Kaneda
Aya Hisakawa
Crispin Freeman
Steve Cannon
Dave Lelyveld
Dave Mallow
David Lucas
Ethan Murray
James Lyon
Julie Pickering
Lia Sargent
Michelle Ruff
Philece Sampler
Rafael Antonio Oliver
Steven Jay Blum
Wendee Lee

Music From:
Naoki Sato

Director of Photography:
Hisao Shirai

Editor:
Kazunori Okada

Producer:
Jouichi Mizuno
Masao Maruyama
Michiko Suzuki
Shinji Komori

Distributor:
MVM