Area 88: Vol.3 - Tightrope at the Speed of Sound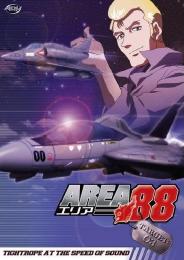 Fight or Die!
Certificate: 12
Running Time: 75 mins
Retail Price: £19.99
Release Date: 2007
Content Type: TV Series
Synopsis:
There's Plenty Of Heart-Stopping Fighter Jet Action In This Installment Of Area 88; Where Lonely Pilots Fly For Their Lives!

All supply transports to Area 88 have been cut off by the enemy. With the base running low on fuel and ammunition, supply costs have soared. The task of freeing the base from the enemy's stranglehold falls to Shin Kazama and a couple of unlikely pilots.

Then, as if that weren't enough, a sniper holds the base hostage with his rifle. The pilots are willing, but they have to locate the sniper first, so Makoto Shinjou decides to help out with his photographic skills.

The thanks he gets is the ride of his life in a cavorting fighter jet on a dangerous roller-coaster ride through a narrow canyon. The well-protected enemy base lies at the opening to the canyon, but who will make it and who will fail?
Special Features:
Clean Credits
Aircraft Specs
Character Bios
Production Sketches
Interviews

Video Tracks:
1.78:1 anamorphic widescreen

Audio Tracks:
Dolby Digital 5.1 Surround English
Dolby Digital 2.0 Stereo Japanese

Subtitle Tracks:
English

Directed By:
Isamu Imakake

Written By:
Hiroshi Ohnogi
Kaoru Shintani

Starring:
Shinichiro Miki
Takehito Koyasu
Chikao Ohtsuka
Hikaru Midorikawa
Hiroki Takahashi
Masaya Takatsuka
Ryou Hirohashi
Sanae Kobayashi
Satsuki Yukino
Chris Patton
John Gremillion
Andy McAvin
George Manley
Hilary Haag
Illich Guardiola
Jason Douglas
John Swasey
Nancy Novotny

Music From:
Kazunori Miyake