Area 88: Vol.2 - A Lonely Crossing Of Paths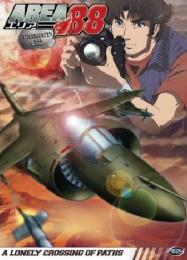 Only The Strong Survive.
Certificate: PG
Running Time: 75 mins
Retail Price: £19.99
Release Date: 2006
Content Type: TV Series
Synopsis:
In every life there comes a moment when skill is pushed to the limit, when the only thing that stands in the path of death is the strength of the spirit and the shear will to survive.

Outnumbered and overpowered, Shin is forced to ditch his plane and parachute into the barren, unforgiving desert where he is haunted by memories of his past as he struggles to survive.

Back on base a new pilot is turning heads, and she... yes, she... has the skill of an ace and the beauty to match. But Shin is oblivious to her obvious advances as he impatiently waits for his new plane to arrive.

Amid thoughts of the life, and love, he left behind, Shin is confronted with the face of the friend who took it all away, and in the last place he would expect it, in the cockpit of the 747 barreling toward him through the clouds.

Truly innovative animation and heart-pounding suspense transport you to a world where every breath could be your last.

At Area 88, there's no such thing as a normal day.
Special Features:
Clean Credits
Aircraft Specs
Character Bios
Production Sketches
Interviews

Video Tracks:
1.78:1 anamorphic widescreen

Audio Tracks:
Dolby Digital 5.1 Surround English
Dolby Digital 2.0 Stereo Japanese

Subtitle Tracks:
English

Directed By:
Isamu Imakake

Written By:
Hiroshi Ohnogi
Kaoru Shintani

Starring:
Shinichiro Miki
Takehito Koyasu
Chikao Ohtsuka
Hikaru Midorikawa
Hiroki Takahashi
Masaya Takatsuka
Ryou Hirohashi
Sanae Kobayashi
Satsuki Yukino
Chris Patton
John Gremillion
Andy McAvin
George Manley
Hilary Haag
Illich Guardiola
Jason Douglas
John Swasey
Nancy Novotny

Music From:
Kazunori Miyake