Tsubasa: The Complete Season One (6 Disc)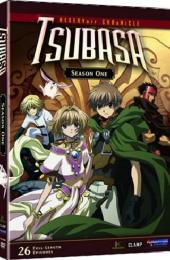 Certificate: PG
Running Time: 13 Hrs 15 Mins
Retail Price: £44.99
Release Date: 16/03/2009
Content Type: TV Series
Synopsis:
A true and noble heart holds much power, stronger than the hardest fist and mightier than the most potent magic. Four disparate travellers begin an epic journey ... their goals different, their destiny the same. Along the way, the past will meet the future in the present. Of all the paths of every life, mingling in the dimension between dimensions where a foe has the face of an ally, and an ally the face of a monster.

At the centre of this heroic undertaking, Syaoran: a young man called upon to save his fated, the princess Sakura. Her memory has been shattered, the very essence of her soul sent adrift across the universe. Feathers float down on strange lands, if only th prove the power of love.

With fellow travellers Kurogane and Fai, a warrior and a wizard, an epic quest begins. One of danger and mystery... The possibilities are endless.
Special Features: