Doctor Who: Spearhead From Space (UK)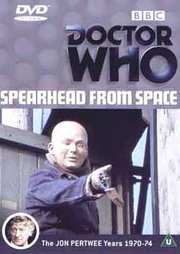 The Jon Pertwee years 1970-74
Certificate: U
Running Time: 97 mins
Retail Price: £19.99
Release Date:
Content Type: TV Series
Synopsis:
Exiled to Earth in the late 20th century by his own people - the Time Lords - the newly regenerated Doctor arrives in Oxley Woods alongside a shower of mysterious meteorites. Investigating these unusual occurrences is the newly-formed United Nations Intelligence Taskforce - UNIT for short. Lead by Brigadier Alistair Gordon Lethbridge-Stewart, UNIT are soon called into action when people and meteorites start going missing. Most puzzling of all is the attempted kidnap of a strange hospital patient - a man with two hearts, who insists that he recognises the Brigadier...

The new doctor soon joins forces with his old friend, UNIT, and the recently recruited Dr Liz Shaw, but time is running out...

Irregular things are happening at a nearby plastics factory, while faceless creatures lurk in the woods. The Nestenes have arrived, and want to conquer the Earth...
Special Features:
Interactive Menus
Scene Access
Commentary
Photo Gallery
UNIT Recruiting Film
3 Trailers

Video Tracks:
Standard 1.33:1

Audio Tracks:
Dolby Digital Mono English

Subtitle Tracks:
CC: English

Directed By:
Derek Martinus

Written By:
Robert Holmes

Starring:
Jon Pertwee

Music From:
Dudley Simpson

Producer:
Derrick Sherwin

Distributor:
BBC