The Discovery of Heaven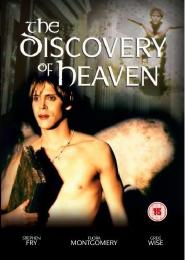 Coincidence doesn't exit, everything happens for a reason
Certificate: 15
Running Time: 127
Retail Price: £15.99
Release Date: 24/11/2008
Content Type: Movie
Synopsis:
God wants the original Ten Commandments back. But no Angel is allowed to travel to earth to get them. The Angels have to 'create' a human being smart enough to find the Stone Tablets, and willing to sacrifice his or her life in order to return the Tablets to Heaven.

The Angels design an ingenious and at the same time merciless plan to achieve their goal. The plan shapes up when two men on earth meet each other apparently by coincidence. One is Onno Quist (Stephen Fry), an eccentric linguist and son of a former Prime Minister. The other is Max Delius (Greg Wise), son of a Nazi father and a Jewish mother. The two men become friends. Only one person can intrude into the intimacy of their friendship: Ada Brons (Flora Montgomery), a young cello player.

Ada becomes pregnant. She doesn't know whether Max or Onno is the father. The boy born, Quinten, rapidly develops as a very special and very gifted child. Is he the chosen one? Will he be capable to complete the Angels task?
Special Features:
- Extra Visual Effects Material
- Deleted Scenes
- Trailer

Video Tracks:
Anamorphic Widescreen 1.78:1

Audio Tracks:
Dolby Digital 2.0 English

Directed By:
Jeroen Krabbé

Written By:
Harry Mulisch
Edwin de Vries

Starring:
Maureen Lipman
Viv Weatherall
Jeroen Krabbé
Stephen Fry
Gillian Barge
Greg Wise
Flora Montgomery
Rob van de Meeberg
Diana Quick
Neil Newbon
Emma Fielding
Sean Harris

Casting By:
Joyce Nettles

Soundtrack By:
Henny Vrienten

Director of Photography:
Theo Bierkens

Editor:
Nigel Galt
Kant Pan

Costume Designer:
Yan Tax

Production Designer:
Benedict Schillemans

Producer:
Ate de Jong

Distributor:
Eureka!