David Lynch: The Collection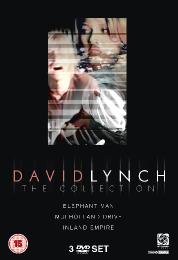 3 DVD Set
Certificate: 15
Running Time: 437
Retail Price: £19.99
Release Date: 25/08/2008
Content Type: Movie
Synopsis:
THE ELEPHANT MAN: SPECIAL EDITION (1980)

Brilliant young Doctor Frederick Treves (Anthony Hopkins) shocks his colleagues at the London Hospital when he unveils a man so hideously deformed that he is condemned to life as a freak in a circus sideshow. Upon returning this unfortunate to his "owner" Bytes, Treves witnesses Bytes' brutal treatment of the Elephant Man - whose real name is John Merrick - and decides to rescue him for medical study at hospital. As he grows to know Merrick (John Hurt) however, he comes to realise that underneath the grotesque exterior there exists a gentle and intelligent man, whose capabilities have never been appreciated or allowed to develop. After years of suffering abuse and ridicule, Merrick sweetly delights in this chance at a better life, but will fate and those who seek only to profit from his deformity conspire against him? Also starring John Gielgud and Anne Bancroft.

MULHOLLAND DRIVE (2001)

Beautiful, bizarre and strangely addictive, Mulholland Drive begins as a botched hit results in the meeting of bruised brunette amnesiac Rita (Laura Harring) and blonde would-be Hollywood actress Betty (Naomi Watts - King Kong, 21 Grams). Taking the viewer on a memorable neo-noir trip through Hollywood's dark underbelly, Lynch dispenses with a conventional narrative in favour of an hallucinogenic assault on the senses that will stay with you long after the credits roll.

INLAND EMPIRE (2007)

Laura Dern plays Nikki Grace, an actress preparing for her biggest role yet, a Hollywood movie from an acclaimed director (played by Jeremy Irons) opposite an amorous leading man (Justin Theroux). But when she finds herself falling for her co-star, she realizes that her life is beginning to mimic the fictional film that they're shooting. Adding to her confusion is the revelation that the current film is a remake of a doomed polish production that was never finished due to an unspeakable tragedy. Inland Empire was David Lynch's first film afer a gap of 6 years from the award-winning Mulholland Drive (and his first shot completely on digital) is a complex Hollywood mystery that blurs the lines between fantasy and reality.
Special Features:
• The Real Elephant Man documentary featurette on life for Merrick in Victorian England
• Trailers for The Elephant Man and Inland Empire
• New & Exclusive John Hurt interview
• New & Exclusive David Lynch interview

Video Tracks:
Elephant Man - Dolby Digital 2.0 Stereo
Mulholland Drive - Dolby Digital 5.1 Surround & 2.0 Stereo
Inland Empire - Dolby Digital 5.1 Surround & 2.0 Stereo

Audio Tracks:
Elephant Man - 2.35:1 Anamorphic
Mulholland Drive - 1.85:1 Anamorphic
Inland Empire - 1.85:1 Anamorphic

Directed By:
David Lynch