Inner Sanctum Mysteries: The Complete Film Series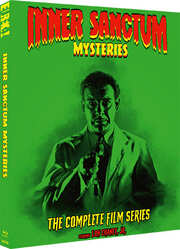 Certificate: PG
Running Time: 382 Mins
Retail Price: £29.99
Release Date: 18/01/2021
Content Type: Movie
Synopsis:
Death, dementia, dark arts… it's just another day in the forbidding and fascinating world of the Inner Sanctum! Get ready for unlimited thrills and chills as all six classic Inner Sanctum Mysteries come to Blu-ray in the UK for the first time ever! Based on the popular radio shows of the 1940's, horror icon Lon Chaney, Jr. (The Wolf Man), gives timeless performances in six spooky feature-length films.

Calling Dr. Death (dir. Reginald Le Borg, 1943) – A doctor is not sure if he murdered his wife and has his nurse try to find the truth by hypnotising him.

Weird Woman (dir. Reginald Le Borg, 1944) – While on a trip, a professor falls in love with an exotic native woman who turns out to be a supernatural being.

Dead Man's Eyes (dir. Reginald Le Borg, 1944) – When an artist is blinded, an operation to restore his sight depends on another person willing to donate their eyes.

The Frozen Ghost (dir. Harold Young, 1945) – A stage mentalist and a discredited plastic surgeon are involved in mysterious goings-on in an eerie wax museum.

Strange Confession (dir. John Hoffman, 1945) –Flashbacks reveal the events leading up to a man's revenge on the racketeer who took advantage of his wife.

Pillow of Death (dir. Reginald Le Borg, 1945) – A lawyer in love with his secretary is suspected of suffocating his wife, among others.
Special Features:
O-Card Slipcase

High Definition Blu-ray (1080p) presentations of all six films

Uncompressed LPCM monaural audio tracks

Optional English SDH subtitles

Calling Dr. Death – Audio commentary from screenwriter/film historian C. Courtney Joyner and Regina Le Borg (daughter of director Reginald Le Borg)

Weird Woman – Audio commentary from author Justin Humphreys (The Dr. Phibes Companion) and Del Howison (Dark Delicacies: Original Tales of Terror and the Macabre)

Strange Confession – Audio commentary from screenwriter Peter Atkins (Hellraiser II, III, & IV) and screenwriter/film historian C. Courtney Joyner

Kim Newman on The Inner Sanctum Mysteries – New interview with journalist, film critic, and fiction writer Kim Newman

This is the Inner Sanctum: Making a Universal Mystery Series [55 mins]

The Creaking Door: Entering The Inner Sanctum [15 mins] – History of the Radio Series with author/radio historian Martin Grams Jr.

Mind Over Matter [20 mins] – Archival interview with actor Martin Kosleck (The Frozen Ghost)

Inner Sanctum Mysteries: Radio Episodes – A selection of episodes from the original radio series

A collector's booklet featuring new writing on the series by Craig Ian Mann

Related Websites:
https://eurekavideo.co.uk/movie/inner-sanctum-mysteries-the-complete-film-series/

Directed By:
Reginald Le Borg
Harold Young
John Hoffman
Wallace Fox

Starring:
Lon Chaney Jr.
Martin Kosleck

Distributor:
Eureka Entertainment