Review for Dragon Ball Super: Broly
So how did I get to review the most anticipated anime movie release of the year? Well, frankly because the veritable king of anime reviews, he who dons the name Jitendar Canth, declared his lack of love for the Dragon Ball franchise. That sentiment, combined with his already mammoth commitment to cover many other series, was enough to persuade him to persuade me to cover its latest installment; a feature film addition, Dragon Ball Super: Broly The Movie.
Well, I'm no Dragon Ball fan either. But that's really only because I have never watched a single episode of this log running franchise.
According to Wikipedia, Dragon Ball (sometimes referred to as Dragonball as one word) started off life as a manga in 1984, created by manga illustrator, Akira Toriyama.
(Shows how much I know; I was convinced it was based on a video game and given its 'collecting orbs' narrative, that's not as crazy as it sounds.)
It was inspired by the classical Chinese novel 'Journey to the West' as well as Hong Kong martial arts films, and it follows the adventures of Son Goku, from his childhood through adulthood as he trains in martial arts and explores the world in search of the seven orbs known as the Dragon Balls, which summon a wish-granting dragon when gathered. Along his journey, Goku makes several friends and battles a wide variety of villains, many of whom also seek the Dragon Balls. Makes sense and, to be honest, sounds fun.
Toriyama's manga was adapted into an anime series but divided into two series produced by Toei Animation: Dragon Ball and Dragon Ball Z, which were broadcast in Japan from 1986 to 1996. Additionally, the studio developed no less than 20 animated feature films and three television specials, as well as two anime sequel series titled Dragon Ball GT (1996–1997) and Dragon Ball Super (2015–2018).
From 2009 to 2015, a revised version of Dragon Ball Z aired in Japan under the title Dragon Ball Kai, as a re-cut that follows the manga's story more faithfully by removing most of the material featured exclusively in the anime.
But enough of that. If you're reading this review, chances are you already know about the franchise. What you might not know, and why should you if you haven't seen it yet, is that feature film number 21 is immensely watchable, even to a newbie like me. Sure, some of the subtleties of its narrative are doubtless missing, but overall, it's not a tough concept to get and as this film is almost wall-to-wall action, it's actually a lot of fun. It's also the highest grossing Dragon Ball film of all time, not to mention the highest grossing anime movie of 2018. So definitely worth a look.
So what's the film about?
First the back story, thanks to Wikipedia, which you may or may not already know. I didn't so it was well worth swotting up before starting the film.
"Forty-one years ago, the Saiyan homeworld Planet Vegeta is ruled by the forces of King Cold, who delegates their command to his son Frieza. King Vegeta, leader of the Saiyans, believes his son Prince Vegeta is a prodigy destined to liberate their people and rule the universe. He learns of Broly, a Saiyan baby born with an abnormal power level exceeding that of his son, and exiles Broly to the distant planet Vampa. Broly and his father Paragus, who goes after his son, are stranded on Vampa after their ships are damaged. Paragus vows to raise Broly as a mighty warrior to exact revenge on King Vegeta.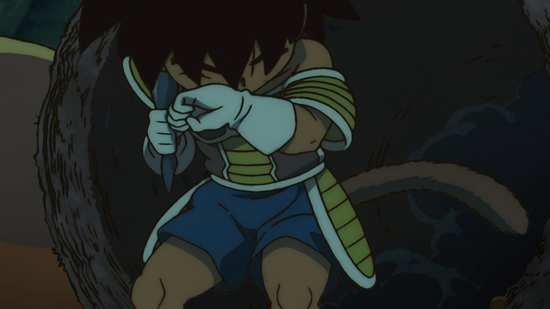 Five years later, a low-class Saiyan warrior named Bardock becomes suspicious of Frieza and sends his son Kakarot (later named Goku) to Earth. His suspicions are confirmed when Frieza destroys Planet Vegeta after learning of a legend about a Legendary Super Saiyan who could one day defeat him. The Saiyan race is eradicated, except for Broly and Paragus, Goku and his brother Raditz, Vegeta and his comrade Nappa and Vegeta's brother Tarble."
Our hero Son Goku (Bardock's son, aka Kakarot) is striving for new levels of power, like Miles Davis seeking the notes between the notes, and trains daily to attempt to tap into these elusive super-powers, along with his pal, Vegeta and other pals Bulma, Bulla, Beerus and Whis.
Bulma is contacted by Trunks, who informs her that six of the Dragon Balls have been stolen by Frieza's soldiers. So Goku, Vegeta, Bulma and Whis travel to the Arctic to find the seventh Dragon Ball before Frieza gets his grubby paws on it.
Meanwhile, Broly and Paragus are rescued from Vampa by Cheelai and Lemo, two low-class soldiers in Frieza's army searching for recruits. They are brought to Frieza, who recruits them to help him defeat Goku and Vegeta. The two groups come face-to-face in the Arctic, where Paragus orders Broly to attack Vegeta.
And that's where the wild action really starts. Broly fights Vegeta and then Goku, growing stronger as the fight progresses and soon reaching their Super Saiyan God forms. But Goku overpowers Broly with Super Saiyan Blue. Frieza responds by murdering Paragus, triggering the awakening of Broly's Super Saiyan powers. He overwhelms Goku and Vegeta with his new power, so they trick him into attacking Frieza instead and then teleport to Piccolo's location. Well, you would wouldn't you.
Goku and Piccolo teach Vegeta how to use the Fusion Dance technique; about an hour later, after two failed attempts, Goku and Vegeta successfully fuse together into Gogeta and teleport back to the battlefield.
Things then get seriously weird. Gogeta turns Super Saiyan and engages in a beam clash with Broly, which shatters the fabric of reality and sends the two into another dimension. Gogeta dominates the fight until Broly powers up even further into his Legendary Super Saiyan form. This allows Broly to regain the advantage, until Gogeta powers up into Super Saiyan Blue, allowing him to dominate the fight once again. The two then clash even more violently, breaking through multiple dimensions, before arriving back in the real world.
It looks like Broly is on the ropes. Or is he? You'll have to watch to find out! However complex this review has made it sound, it's actually a very straight-forward narrative that is fun to watch and surprisingly easy to follow. It's a mega-action filled film with high levels of violence and, though the animation is often stylised rather than detailed or elegant, it nonetheless exudes a feature-film production value, delivering far more than merely an extended TV episode. It's also notable that, despite its running time of over an hour and forty minutes, it's such fun that it rattles by.
Sadly, the set is bereft of any extra features, beyond the obvious like trailers, like Pokemon: The Power of Us and My Hero Academy.
The Blu-Ray looks flawless with a really rich and immersive soundtrack, presented as DTS-HD in both English and Japanese. I selected US English which worked a treat.
Dragon Ball Super: Broly the Movie is well worth a watch. Indeed, I enjoyed it so much that I am sorely tempted to explore the franchise further. Highly recommended.