Mission Impossible 1-5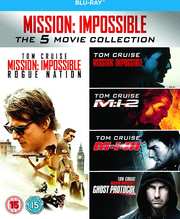 The 5 Movie Collection
Certificate: 15
Running Time: 624 mins
Retail Price: £34.99
Release Date: 2015
Content Type: Movie
Synopsis:
The first five films from the spy franchise starring Tom Cruise as a special agent.

In 'Mission Impossible' (1996) Ethan Hunt (Cruise), an IMF (Impossible Mission Force) agent, is hunted by his own organization after an assignment in Prague goes wrong. Going to ground, Hunt enlists the help of two discredited agents to track down the real villain of the piece, a quest that takes him to the heart of CIA operations.

In 'Mission Impossible 2' (2000) Hunt is tasked with tracking down renegade agent Sean Ambrose (Dougray Scott) who has stolen the only known supply of Bellophron - the antidote to man-made virus Chimera. Hunt enlists the help of Ambrose's ex-girlfriend, Nyah Nordoff-Hall (Thandie Newton) and, although the pair fall in love, Nyah agrees to return to Ambrose in order to gain information. However, Ambrose now intends to release an epidemic of Chimera in order to sell Bellophron to the highest bidder and when he becomes suspicious of Nyah he decides to use her as a guinea pig.

In 'Mission Impossible 3' (2006) Hunt confronts the toughest villain he's ever faced - Owen Davian (Philip Seymour Hoffman), an international weapons and information provider with no remorse and no conscience. Hunt assembles his team - his old friend Luther Strickell (Ving Rhames), transportation expert Declan (Jonathan Rhys Meyers), background operative Zhen (Maggie Q) and fresh recruit Lindsey (Keri Russell) - to travel the globe pursuing Davian and rescue Hunt's love, Julia (Michelle Monaghan).

In 'Mission Impossible - Ghost Protocol' (2011), when the Kremlin is bombed by terrorists, the IMF is implicated and all its team members instantaneously denied access by the United States government. Hunt and his new team must go rogue to clear the IMF's name but are warned that if any one of them is captured during their mission they will be charged as terrorists plotting to incite global nuclear war. Hunt seeks the help of enigmatic former IMF agent Brandt (Jeremy Renner) and is surprised to learn how much the shadowy figure knows about his past.

Finally, 'Mission Impossible: Rogue Nation' (2015) follows on from events in the previous installment where the IMF agents find themselves being targeted by a shadowy organization of highly-trained assassins known only as the Syndicate. Can Ethan reassemble the now-disbanded IMF team to bring down this rogue organization before it's too late?
Special Features:
Mission Impossible

Mission: Remarkable
Mission: Explosive Exploits
Mission: Spies Among Us
Mission: Catching the Train
Mission: International Spy Museum
Mission: Agent Dossiers
Excellence in Film
Generation: Cruise
Photo Gallery
Mission: Marketing

Mission Impossible 2

Commentary by John Woo
Behind the Mission
Mission Incredible
Impossible Shots
I Disappear - Metallica
Alternate Title Sequence
Excellence in Film
Generation: Cruise
Easter Egg

Mission Impossible 3

Commentary by Tom Cruise and J. J. Abrams

Mission Impossible: Ghost Protocol

Mission Accepted
Impossible Missions
Deleted Scenes

Mission Impossible: Rogue Nation

Audio Commentary by Tom Cruise and Christopher McQuarrie
Lighting the Furse
Cruise Control
Heroes...
Cruising Altitude
Mission: Immersible
Sand Theft Auto
The Missions Continue

Video Tracks:
2.35:1 widescreen 1080p

Audio Tracks:
Dolby Digital 5.1 Surround English
Dolby Digital 5.1 Surround French
Dolby Digital 5.1 Surround German
Dolby Digital 5.1 Surround Spanish
Dolby Digital 5.1 Surround Italian
Dolby TrueHD 7.1 Surround English
English Audio Descriptive
Dolby Atmos English

Subtitle Tracks:
English
French
German
Spanish
Italian
Dutch
Danish
Norwegian
Swedish
Finnish

Directed By:
Brian De Palma
John Woo
J.J. Abrams
Brad Bird
Christopher McQuarrie

Written By:
Robert Towne
David Koepp
Steven Zaillian
Ronald D. Moore
Brannon Braga
J.J. Abrams
Alex Kurtzman
Roberto Orci
Josh Appelbaum
André Nemec
Christopher McQuarrie
Drew Pearce

Starring:
Vanessa Redgrave
Kristin Scott Thomas
Ving Rhames
Jean Reno
Henry Czerny
Emmanuelle Béart
Jon Voight
Tom Cruise
Anthony Hopkins
Dougray Scott
Thandie Newton
Richard Roxburgh
Philip Seymour Hoffman
Billy Crudup
Michelle Monaghan
Jonathan Rhys Meyers
Keri Russell
Maggie Q
Simon Pegg
Eddie Marsan
Laurence Fishburne
Paula Patton
Jeremy Renner
Michael Nyqvist
Rebecca Ferguson
Sean Harris
Simon McBurney
Alec Baldwin

Casting By:
Gregory Apps
Deborah Aquila
Sarah Finn
April Webster
Alyssa Weisberg
Mindy Marin
Mounir Saguia
Lucinda Syson

Soundtrack By:
Lalo Schifrin
Danny Elfman
Hans Zimmer
Michael Giacchino
Joe Kraemer

Director of Photography:
Stephen H. Burum
Jeffrey L. Kimball
Dan Mindel
Robert Elswit

Editor:
Paul Hirsch
Steven Kemper
Christian Wagner
Maryann Brandon
Mary Jo Markey
Paul Hirsch
Eddie Hamilton

Costume Designer:
Penny Rose
Lizzy Gardiner
Timothy Everest
Colleen Atwood
Michael Kaplan
Joanna Johnston
Timothy Everest

Production Designer:
Norman Reynolds
Thomas E. Sanders
Scott Chambliss
James D. Bissell

Producer:
Paula Wagner
Tom Cruise
J.J. Abrams
Bryan Burk

Executive Producer:
Paul Hitchcock
Terence Chang
Stratton Leopold
David Ellison
Dana Goldberg

Distributor:
Paramount Pictures